EvalTherm - Evaluation of passive thermography for the detection of rotor blade damage on wind turbines
Project period
01/09/2020 - 31/08/2023
Project type
Collaborative research project
Description
EvalTherm is concerned with the evaluation, improvement and establishment of passive thermographic condition assessment of rotor blades on wind turbines.
Location
Bundesanstalt für Materialforschung und -prüfung (BAM)
Unter den Eichen 87
12205 Berlin
Rotor blades are among the most heavily stressed components of a wind turbine. Therefore, regular maintenance and inspections are indispensable for safe and reliable operation. Damage and repairs detected at an early stage prevent total failures of wind turbines. Due to the costly operations at sea, operators are looking for cost-effective, practicable and safe procedures for regular inspections and maintenance, especially, but not only, for offshore turbines.
The aim is to improve, evaluate and establish the thermographic inspection of rotor blades on existing wind turbines. Thermography enables a contactless, fast and repeatable inspection. Measurements from the ground or with a drone increase safety while reducing costs compared to conventional inspection methods. The development of the measurement system takes into account both camera technology and software for measurement planning and evaluation.
Thermography is a non-contact and imaging method that has already been used for the inspection of stationary rotor blades. Information about internal defects and structures can be derived from the measurement of thermal contrasts on the surface. With large components such as rotor blades, heating with technical aids, which is otherwise common, is impractical. The sun and the diurnal variation in air temperature are used as a natural heat source.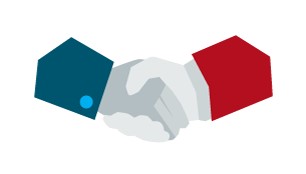 Partners
BAM, Fraunhofer Institute for Wood Research, Wilhelm-Klauditz-Institut WKI, camera manufacturer InfraTec GmbH Infrarotsensorik und Messtechnik, service provider for maintenance and operational management of wind turbines clockworkX GmbH, various experienced experts in the field of inspection and maintenance of wind turbines.
Funding
BMWI, Project Management Agency Forschungszentrum Jülich GmbH, EvalTerm Funding code: 03EE3035B
EvalTherm - Evaluation of passive thermography for the detection of rotor blade damage on wind turbines
The most common damage to rotor blades includes cracks, erosion damage and internal structural damage. Unlike erosion damage such as paint damage or superficial roughening, cracks occur both internally and on the surface. In particular, internal damage such as delamination or detaching adhesions cannot be seen or quantified with the naked eye, even at close range. For this reason, various methods of non-destructive testing (NDT) are used that can also detect the damage inside the rotor blade and, if necessary, characterise and quantify it.
Passive thermography on rotor blades
One of the already established methods used in the inspection of rotor blades is thermography on the stationary rotor blade. This method is based on measuring the surface temperatures of the components. Information about hidden damage or structural-mechanical properties can be derived from the spatial and temporal temperature curves due to transient heat flows within the component.

Components are often actively heated for this purpose (active thermography), e.g. with a radiant heater or by means of convection. However, in the case of very large or moving components such as rotor blades of wind turbines, this is impractical and active heating is not used. This method is also called passive thermography and is the subject of this joint project.
Passive thermography also requires transient heat flows due to temporal changes in ambient temperature. Instead of active heat sources, however, solar radiation and the natural temperature profile throughout the day are used here. The challenge here is to incorporate these external parameters (solar radiation, day/night temperature, wind, etc.) into the measurement planning in order to estimate the best time for inspections with optimal temperature contrasts of possible damage.
Differential measurements on rotating rotor blades
One way to partially compensate for the influence of external parameters on the measurements, which is difficult to estimate, is the so-called differential measurement. Differential measurement is the simultaneous measurement of the temperature distribution of all three rotor blades at one wind turbine and the following difference formation of the three recordings. Since the three rotor blades are exposed to the same external conditions and are in principle identical in construction, differences in the measurements indicate structural differences between the rotor blades and enable the detection of individual damage.
Work packages
In order to ensure a holistic development of the measurement method and the associated measurement technology, various project partners are working together in this joint project under the leadership of BAM. The Fraunhofer Institute for Wood Research (Wilhelm-Klauditz-Institut in Braunschweig) has many years of experience in thermographic rotor blade inspection and is primarily responsible in the project for rotor blade inspections using active thermography and for the simulation of active thermography, in close cooperation with BAM. In order to also be able to carry out measurements with a drone, the project partner and camera manufacturer InfraTec GmbH is developing a special drone-compatible infrared camera. Another project partner is the company clockworkX GmbH, which is largely responsible for data structuring, linking measurement and weather data and integrating the inspection results into a digital service book. In addition to coordinating the various tasks, BAM is in charge of the data evaluation, the test measurements and the simulations to determine the optimal weather-dependent inspection time. Field measurements on existing wind turbines are carried out by all partners in close cooperation.
Partners
BAM Bundesanstalt für Materialforschung und -prüfung
WKI Fraunhofer Institute for Wood Research (Wilhelm-Klauditz-Institut)
InfraTec GmbH Infrared sensors and measurement technology
clockworkX GmbH Experts in the field of inspection and maintenance of wind turbines
Funding
The EvalTherm project (funding code 03EE3035B) is funded by the Federal Ministry for Economic Affairs and Energy (BMWi) under the project management organisation Forschungszentrum Jülich GmbH (PT-J.ESE3).