GW4SHM – Guided Waves for Structural Health Monitoring
Project period
01/01/2020 - 21/12/2023
Description
The GW4SHM project, funded by the Marie Skłodowska-Curie Actions Innovative Training Network (H2020-MSCA-ITN-2019-860104), aims at training a new generation of researchers skilled in all aspects of Structural Health Monitoring focusing on aeronautics, petrochemistry and the automotive sector.
Location
Bundesanstalt für Materialforschung und -prüfung
Unter den Eichen 87
12205 Berlin
The European economy's adaptability to the challenges of digitisation and production automation will be crucial for its further success. Emerging technologies such as Condition Based Maintenance (CBM), integrated health monitoring including remaining lifetime prognosis and machine learning which are in the focus of the GW4SHM's research activities will be a key enabler for successful transformation towards Industry 4.0. The three main contributions from GW4SHM to Europe's technological progress are: increase safety, increased reliability, saving resources and energy.
The overall objective of GW4SHM is to train a new generation of researchers and to turn, together with them, Structural Health Monitoring from a lab-based technology into real-world applications.
New concepts for improved maintenance of technical appliances will be developed based on acquired SHM data, innovative models and signal processing tools. Finite Element Modelling will be performed to model wave propagation and their interaction with damage, to perform model-assisted Probability-of-Detection-studies (MAPOD) and to develop digital twins. It is possible due to a wide range of tools available within the Consortium. From a data analysis point of view, different signal processing tools are also available and will be further developed.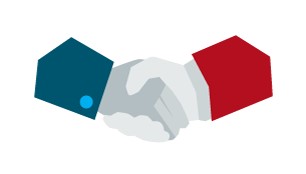 Consortium The GW4SHM consortium consists of 12 beneficiaries and 8 partner organisations involving universities, research organisations, government agencies and industries from 8 European Countries.
Coordination Bundesanstalt für Materialforschung und -prüfung (BAM)
Funding Marie Skłodowska-Curie Innovative Training Networks (MSCA-ITN) within the European Union's Horizon 2020 Programme.
Impact
The novel methods developed within GW4SHM will pave the way for integrating SHM into real-world engineering structures, thereby improving the safety and reliability of European plants, transport systems and critical infrastructure.
Objectives
The overall aim of GW4SHM is to turn SHM from a lab-based technology into real-world applications. To overcome current hurdles that prevent the widespread use of SHM, GW4SHM will pursue the following three objectives:
create efficient simulation tools to predict ultrasonic wave propagation in real-life structures made of complex materials
develop sophisticated signal processing algorithms to interpret the measured signals, assessing the damage, and eliminating environmental and operational influences in combination with advanced transducer integration
devise strategies to assess the reliability of SHM methods with respect to their standardisation and to utilise SHM data for CBM and digital twins
Technical work packages
The GW4SHM project consists of 3 technical work packages (WP) in addition to WPs on Training and Secondment, Dissemination and Communication as well as a work package on Recruitment and Management.

Simulation
Key goal is to extend the different numerical methods and combine them according to their pros and cons to profit from the advantages offered by a combination of the various approaches. The WP1 aims at the development of highly efficient, easy-to-use simulation tools and numerical models for the prediction of excitation, wave propagation, and mode-flaw interaction in realistic structures for use in research and industry.
Signal processing
This WP aims towards the adaption and optimisation of signal processing algorithms as well as transducer concepts for SHM applications. The focus is on interpreting ultrasonic signals, to extract information about damage type, location and size, to suppress the environmental and operational influences and to utilise information for subsequent maintenance processes in various real-life scenarios.
Reliability and Standardisation
Key goal is to extend Probability of Detection (POD) concepts mainly by applying highly efficient simulation tools towards a framework for demonstrating the performance and reliability of SHM systems as the foundation of qualification, certification and standardisation of SHM techniques.
Project coordination
BAM Bundesanstalt für Materialforschung und -prüfung (BAM), Germany
Project coordinator: Dr.-Ing. Jens Prager, Department Non-destructive Testing,
Division Acoustic and Electromagnetic Methods
Beneficiaries
CEA-LIST - French Alternative Energies and Atomic Energy Commission (CEA-LIST), France
TNO - Netherlands Organisation for Applied Scientific Research (TNO), Netherlands
IKTS - Fraunhofer Institute for Ceramic Technologies and Systems (IKTS), Germany
Tallinn University - Tallinn University of Technology, Estonia
Hochschule Bochum - Bochum University of Applied Sciences, Germany
ICL - Imperial College London, United Kingdom
SAFRAN - Safran Tech., France
Goethe Universität - Goethe University Frankfurt, Germany
KTU - Kaunas University of Technology, Lithuania
UNIBO - University of Bologna, Italy
IT - Institute of Telecommunication, Portugal
Partner organisations
Airbus - Airbus Defence and Space, Germany
Guided Ultrasonics Ltd., United Kingdom
DGZfP - German Society for Non-Destructive Testing, Germany
ISQ - Instituto de Soldadura e Qualidade, Portugal
Enefit - Enefit Energiatootmine AS, Estonia
Dallara - Dallara Automobili S.p.A., Italy
Shell - Shell Global Solutions International BV, Netherlands
Ruhr Uni - Ruhr University Bochum, Germany
Funding
This project has received funding from the European Union's Horizon 2020 research and innovation programme under the Marie Skłodowska Curie grant agreement No [860104].

Further Information