Complex Architecture of Hyperbranched, Rigid Phosphorus Flame Retardants
01/09/2022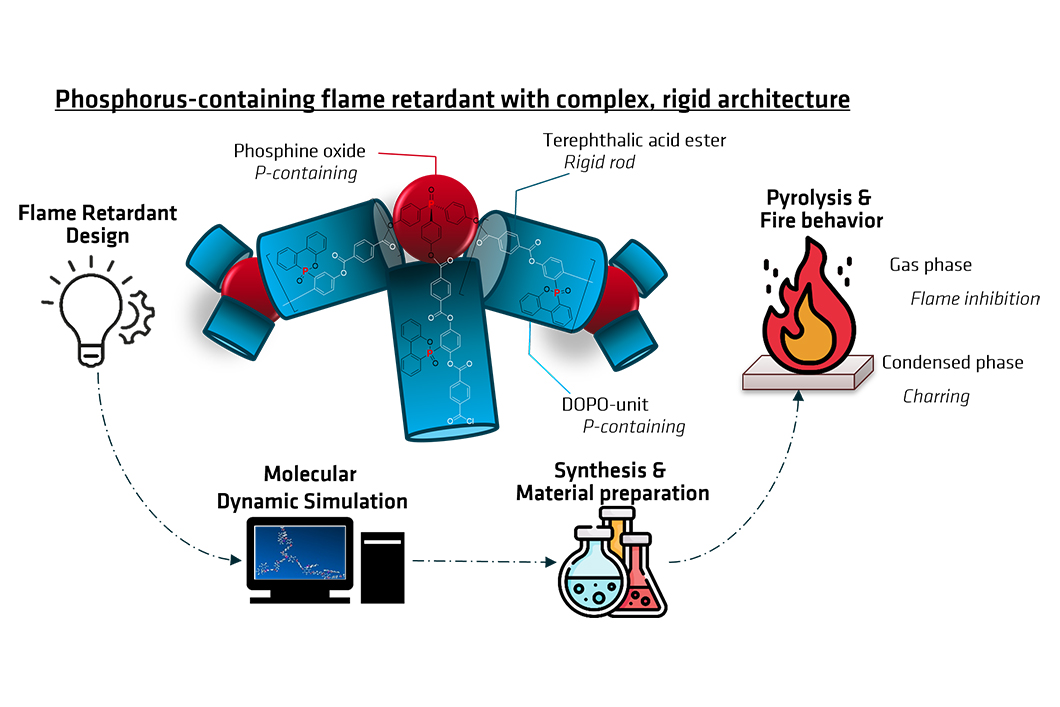 The use of lightweight construction materials like thermosets and their composites is essential to transportation or wind-turbine industries. These materials require flame retardants to ensure their safe use, as they present a fire high risk. Halogen-free, phosphorus-based flame retardants are state-of-the-art, yet their constant development to meet higher material demands is a must. There is a growing trend towards macromolecules and complex shapes. Hyperbranched polymeric flame retardants have unique properties as fillers, such high retention, low impact on glass transition temperature, and high effectivity at low loadings.
This Paper of the Month presents the use of innovative flame retardant design to create an effective phosphorus-based flame retardant with a complex architecture as a multifunctional additive to high-performance materials like epoxy resins.
The hyperbranched molecule is based on a trifunctional phosphine oxide and a bifunctional terephthalic acid ester, which contains a pendant flame retardant (DOPO) unit.The first step involved designing the macromolecule based on its stereochemistry: the terephthalic acid ester moieties can only rotate via a central axis, meaning they act as rigid rods, while the phosphine oxide acts as rigid joints which connects to further terephthalic acid esters. Using molecular dynamic simulation, the preferred thermodynamically stable confirmation was generated, illustrating that the molecules indeed formed semi-planar rod-and-joint tripods. These complex polymers were then chemically synthesized, their chemical structure was confirmed spectroscopically, and their flame retardant potential was assessed in thermal analysis and fire tests. The additives were able to lower fire loads of epoxy composites by 25% and reduce the peak of heat release rate by 30% at only 0.6 wt.-% P-content while being homogenously mixed with the matrix and also increasing the glass transition temperature. Utilizing a multi-methodic approach revealed the main mode of action to be via increased charring in the condensed phase and particularly flame poisoning in the gas phase.
Thus, the paper "Hyperbranched Rigid Aromatic Phosphorus-Containing Flame Retardants for Epoxy Resins" is a proof-of-principle for innovative flame retardant design. From concept, to simulation, to synthesis and material preparation and finally to pyrolysis and fire testing, this inter-division cooperative project illustrates the interdisciplinarity of our work.
Hyperbranched Rigid Aromatic Phosphorus-Containing Flame Retardants for Epoxy Resins
Alexander Battig, Patrick Müller, Annabelle Bertin, Bernhard Schartel
published in Macromolecular Materials and Engineering, Vol. 306, issue 4, page 731, 2021
BAM division Technical Properties of Polymeric Materials and department Materials Chemistry
further information
Further Information