How does different available information influence the offshore wind turbine maintenance planning?
01/05/2021

Operators of Offshore Wind Turbines (OWT) are facing challenges to implement maintenance due to harsh environments, high maintenance costs and operating risks. Therefore, an optimal maintenance strategy is necessary to reduce the costs, reduce risks and increase the service life benefits of the OWT. However, based on different available information at the time of decision making, the maintenance planning may be different. We analyzed three cases of decision scenarios with different available information at hand, to investigate the influence on the maintenance planning.
Before the OWT is installed, the wind information is collected from a nearby testing site (e0) to be used as the design data for the OWT. After the OWT is installed, a Supervisory Control and Data Acquisition (SCADA) system will be installed together with the OWT. Therefore, wind data from the SCADA system (e1) will be acquired. After some years of operation, strain gauges are installed on the support structure of the OWT. Then the strain gauges data together with SCADA wind data (e2) will be available.
Based on the acquired data, we developed a probabilistic fatigue model to generate the reliability profiles. A maintenance policy is introduced based on the reliability profiles: an inspection will be arranged if the reliability profile is reaching a target reliability threshold. We introduced an inspection model and updated the probabilistic fatigue model with the inspection outcomes. In the end a service life maintenance plan is created stating the number of inspection times and inspection years. An example is shown in the following figure, displaying the service life maintenance plan with considering only SCADA wind data in scenario e1 .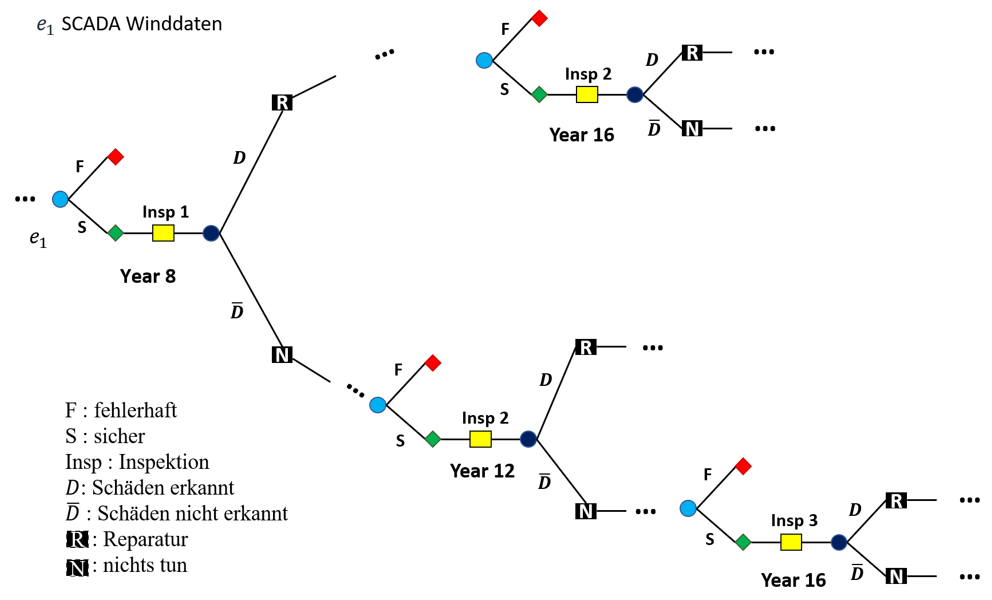 After analysing three different available information scenarios, it was found out that the OWT needs to be inspected three times based on designed wind data (e0 ) and SCADA wind data (e1), but only one time based on the strain gauges data together with SCADA wind data (e2) during service life.
Information value-based optimization of structural and environmental monitoring for offshore wind turbines support structures
Lijia Long, Q. Anh Mai, P. G. Morato, J. Dalsgaard Sorensen, Sebastian Thöns
published in Renewable Energy, Vol. 10, issue 159, pages 1036 - 1046, 2021 , division Buildings and Structures
BAM department Safety of Structures, division Buildings and Structures

Further Information