When erosion becomes a problem. Quantifying the erodibility of cohesive materials
01/10/2020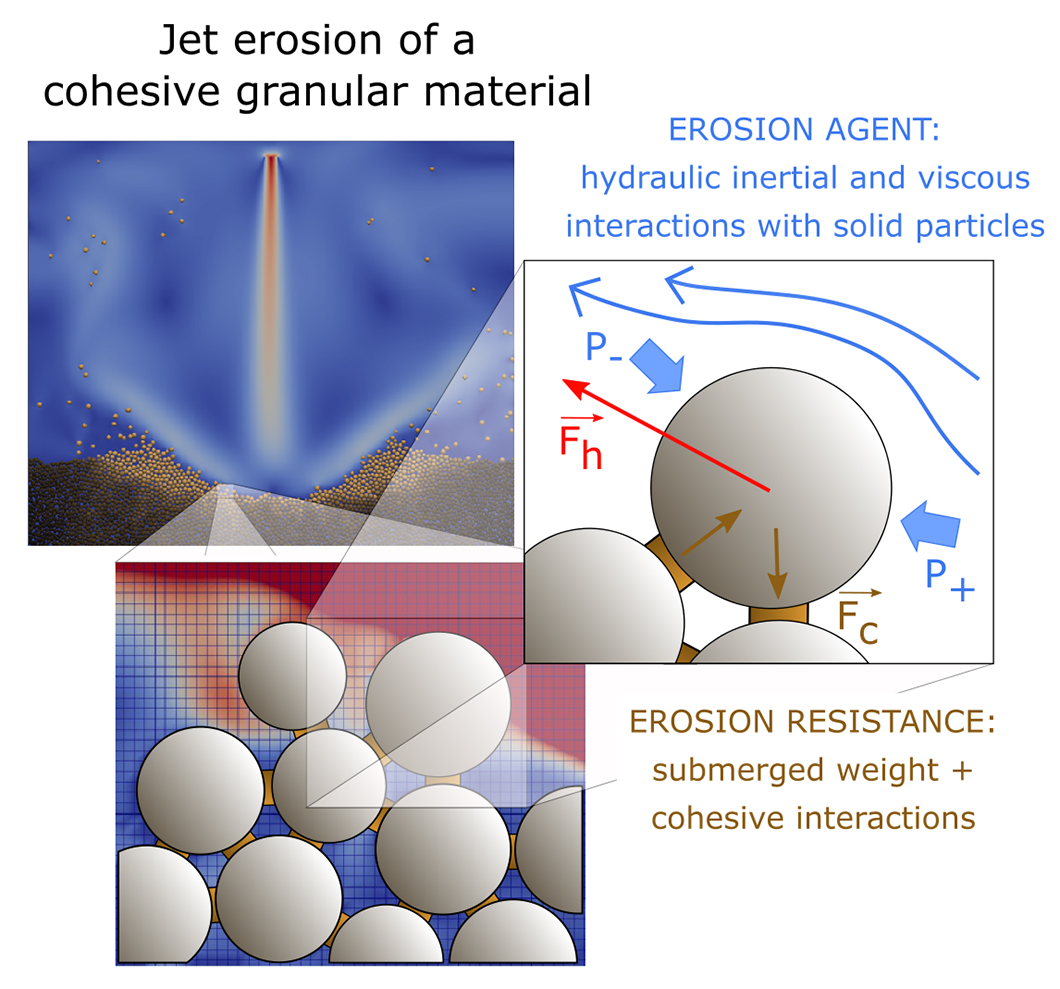 The erosion of cohesive materials by a superficial flow is a ubiquitous phenomenon that usually takes place in many natural contexts (for instance, caused by precipitation run-off, wind erosion, fluvial streams, ...) and in a wide range of industrial applications. However, erosion can also pose serious risks to society and be responsible for catastrophic failures of civil infrastructures (e.g. erosion of earth-dams and flood-protection dikes). In a general sense, erosion means the gradual removal of solid matter from the surface of a material under the action of an eroding agent such as a fluid flow.
Despite its relevance, some of the main erosional processes are still relatively unexplored at their fundamental level (i.e. at the grain scale), especially concerning the influence of material cohesion on key questions such as WHEN (the critical flow conditions for the onset of erosion) or HOW FAST (the evolution of soil mass loss).
Based on real experiments, this paper investigates the contribution of cohesion for the erosion resistance of bonded granular materials subject to a jet surface flow. The laboratory tests are performed on granular samples artificially bonded by solid bridges or by liquid capillary bonds. To quantify the cohesion, the intergranular capillary forces of the liquid bridges are here estimated by measuring their main geometrical parameters with image processing techniques and using well known analytical expressions. For the case of the solid bonds, the strength of the cohesion is directly measured with specific traction tests developed ad-hoc. The proper erosion tests are then carried out in an optically-adapted device that permits a direct visualisation of the erosion process by means of the refractive index matching technique.
On this basis, the paper explores qualitatively the evolution of the scouring process and quantifies the critical condition for the erosion onset. In this respect, the authors propose here a new generalized form of the onset criterion (i.e. the so-called Shields-criterion) based on a common definition of cohesion derived from traction measurements at the grain and sample scales. The article finally shows that the proposed formulation manages to explain at the same time the experimental data for both cohesive and cohesionless materials, the latter in the form of the so-called Shields curve along with some previous results of the authors which have been appropriately revisited.
Generalized Shields criterion for weakly cohesive granular materials
Florian Brunier-Coulin, Pablo Cuéllar, and Pierre Philippe
published in Physical Review Fluids, Vol. 5, page 034308 et seq., 2020
BAM, Division Buildings and Structures
Further Information