Specialised on own fields of interests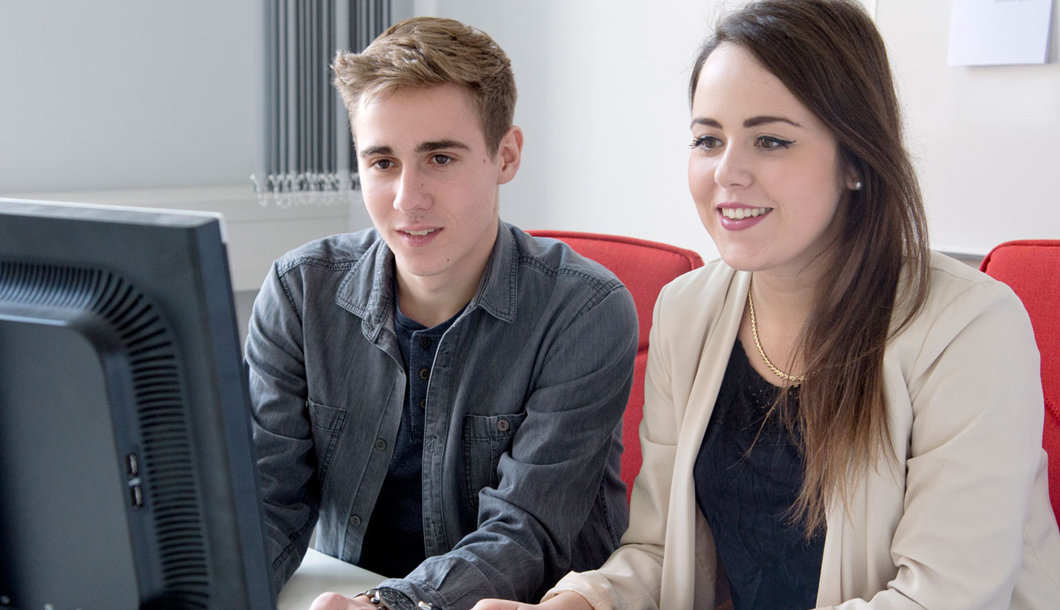 Office management saleswoman or salesman is a very modern profession. In what way is this noticeable?
Adrian: Nowadays, the training for the profession allows for more specific specialisation. This is important for the enterprise and exciting for us trainees. For example, I specialise in "secretariat and staff assistance".
Jennifer: The profession of office management saleswoman or salesman is a fusion of three professions. The vocational school offers excellent group learning environments and we develop learning areas on our own from the onset. The use of modern communication tools also plays a bigger role. The specialisation currently available considers one's own preferences and interests. My focus is on the "secretariat and event management/public relations assistance".
What do you like about your profession?
Adrian: I enjoy interacting with many people. The use of modern communication tools, such as computers and SmartBoards are making this job very interesting for boys as well. You can work independently and thus acquire responsibility early on.
Jennifer: Interacting with many people is great. The work is real. I am currently working in event management. My expectations have been fulfilled. I'm glad to have chosen these focus points.
This profession used to be chosen mainly by women. What is the situation like now?
Adrian: I am not the only man at BAM who is learning this profession. About 40 percent are men in our vocational school class.
Jennifer: Women have the right to choose technical professions, why shouldn't men be allowed to choose typically female professions. I think that's good!
Adrian, how did your colleagues and parents react to your choice of profession?
Adrian: The colleagues at BAM are happy when they get the occasional male trainee. My parents have always supported my choice of profession.
One of the places where your training takes place is the training centre of the civil service. What are you doing there and why?
Adrian: The training centre is great. It offers us the opportunity to gain additional knowledge from different courses and rehash the specifics of the civil service activities. This helps us in our daily work.
Jennifer: The training centre is super. It is a good complement to the vocational school. We learn in great detail and in even smaller classes than in the vocational school. This helps in the daily work at BAM, whether it's travel expenses, civil service law or business trip requests.
Jennifer, you also help organise events as part of your training. How do you like it?
Jennifer: For example, I participate in the preparation and guiding of visitors as well as in the "Long Night of Science" which is very varied and a lot of fun. It requires flexibility and confidence when interacting with people. Together with another colleague, I recently prepared and guided a tour for a visiting group of carpenters and we took them to see our termites. I find it very interesting and exciting to convey information about the wide range of BAM's activities to others.