Building bridges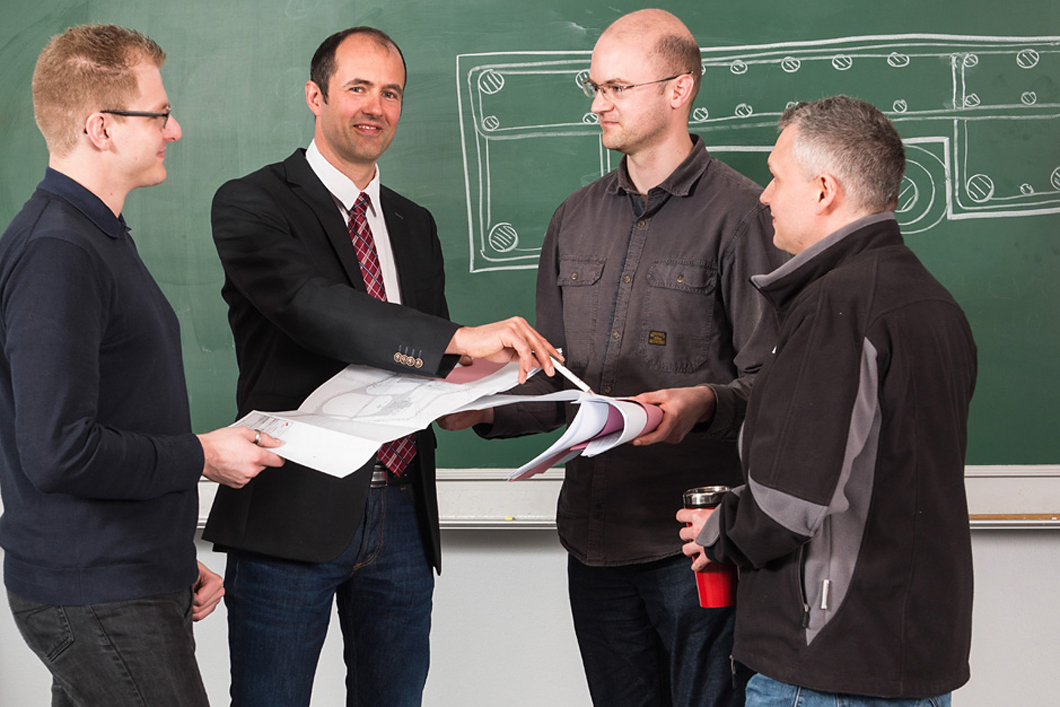 Dr.-Ing. Jörg Unger combines the knowledge of many colleagues in a major project. The issue is the on-going care of our transport infrastructure: bridges. The scientists are trying to unite their forces to reliably predict the service life.
Jörg Unger, a civil engineer and numerical analyst, gathers about a dozen scientists together once a month to report on their speciality work area. They describe simulation methods, measurement techniques and materials test results. In short, their agenda is to bring themselves up to date. And the building, which they are planning together, takes more physical shape from month to month. It is a 24-metre long, barely one-metre wide bridge element, built on the BAM test site at Horstwalde, Brandenburg. 24 metres, is it a miniature? Is this what the enormous effort is for?
The issue is ultimately about bridges – the German road network's major sore points. Therefore, great importance is attributed to this project. Overall, more than 15 scientists from eight BAM divisions are involved. They will integrate a lot of monitoring technology into their pre-stressed concrete bridge, and soon the "reference body" will be completed. The researchers will then be able to measure all mechanical and thermal stresses, detect the effects of moisture and chloride penetration on concrete and steel reinforcement, trace cracks – and above all, many participants from different disciplines will do it simultaneously, in a coordinated way and all on the same test structure. The holistic view is a novel feature of their work. The project is a typical concentration of knowledge in a so-called focus area project and relates to BAM's infrastructure research area. "The goal now is to model material fatigue and stress in order to create a forecast for its service life," says numerical analyst Dr. Unger. These findings enable us to set priorities as to which bridges must be repaired first, and this is of prime importance for the entire industry.
Dr. Unger has been dealing with numerical modelling and simulation for quite some time. He usually studies the interior features of concrete – from microstructures to real macroscopic structures. He has recruited the interdisciplinary team for the three-year BLEIB project (German for assessment, service life forecast and repair of bridges). The participants are working at BAM on their own respective research projects, be it corrosion, structural safety and construction technologies or non-destructive testing. In addition, they work for the bridge project and regularly exchange information in their laboratories. The first sample segments for the test bridge have already been cast. The issue is more often about how one can install as many sensors for the detection and monitoring defects as possible. Fibre optic strain measurement will also be applied, BAM has recently developed this sensor technology that uses light waves. The coordinator Jörg F. Unger expects major results including a very practical advantage: lower wiring cost.