Storing radioactive waste safely
Following the reactor catastrophe in Fukushima in March 2011, the German government decided to withdraw from nuclear energy by the year 2022. However, since Germany does not yet have any final storage sites for highly radioactive or heat-generating waste, safe interim storage is exceptionally important. BAM scientists, engineers and technicians act as reviewers and advisers for safe transport and storage containers.
Currently, worn-out, irradiated fuel elements and other items of nuclear waste are stored at a total of 16 interim storage sites at nuclear power stations and in Gorleben and Ahaus. There are already over 1000 transport and storage containers in use at these locations, predominantly of the CASTOR® make. In total, there will be around 1900 containers by the time the final power station is removed from the grid, and once the withdrawal from reprocessing activities in England and France is concluded.
Utmost safety during transport and storage
Storage and transport are regulated by different sectors of law, even when they concern the same containers with only a few differences of equipment. BAM is consulted as an expert by the Bundesamt für Strahlenschutz (BfS) [Federal Office for Radiation Protection], the most senior licensing authority, in all matters relating to storage containers. In the case of transport containers, BAM undertakes tasks of public authority in the approval procedure for traffic regulations, and assesses each type of container from a safety perspective.
BAM experts develop, improve and furthermore constantly validate the analysis processes and methods of evaluation. They also review the quality assurance for the manufacture and operation of containers. To do this, BAM combines its long years of experience working with various materials in the field of containers and concerning containment systems for dangerous goods.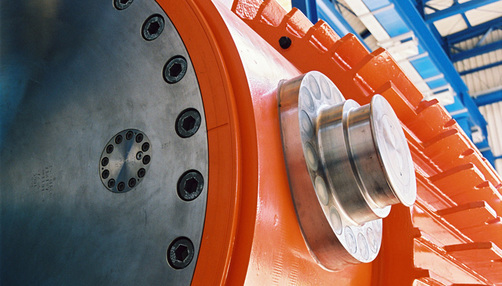 Safety beyond the authorised 40 years
Interim storage poses a particular challenge: the containers are authorised for use for 40 years. "This was first and foremost a political rather than a technical guideline," says Dr. Holger Völzke. He is the Head of the Safety of Transport Containers and Safety of Storage Containers Divisions at BAM and a member of the AZ committee (Waste Conditioning, Transport and Interim Storage) of the Entsorgungskommission (ESK) [Nuclear Waste Management Commission], who advise the Federal Environment Ministry. As there will continue to be no final storage sites for the foreseeable future, the containers will probably have to be kept in interim storage for longer. Further approval processes and additional evidence of safety are required for this, which should demonstrate the increased longevity of all materials and construction parts.
BAM is already conducting preliminary investigations to this end; for example, on the systems of cover seals and the corresponding metal gaskets, which guarantee the safe containment of the radioactive content. In this way, BAM is not only fulfilling its role in the approval and authorisation processes, but is already working on safe solutions beyond the 40 year horizon.
Further Information