BAM@Hannover Messe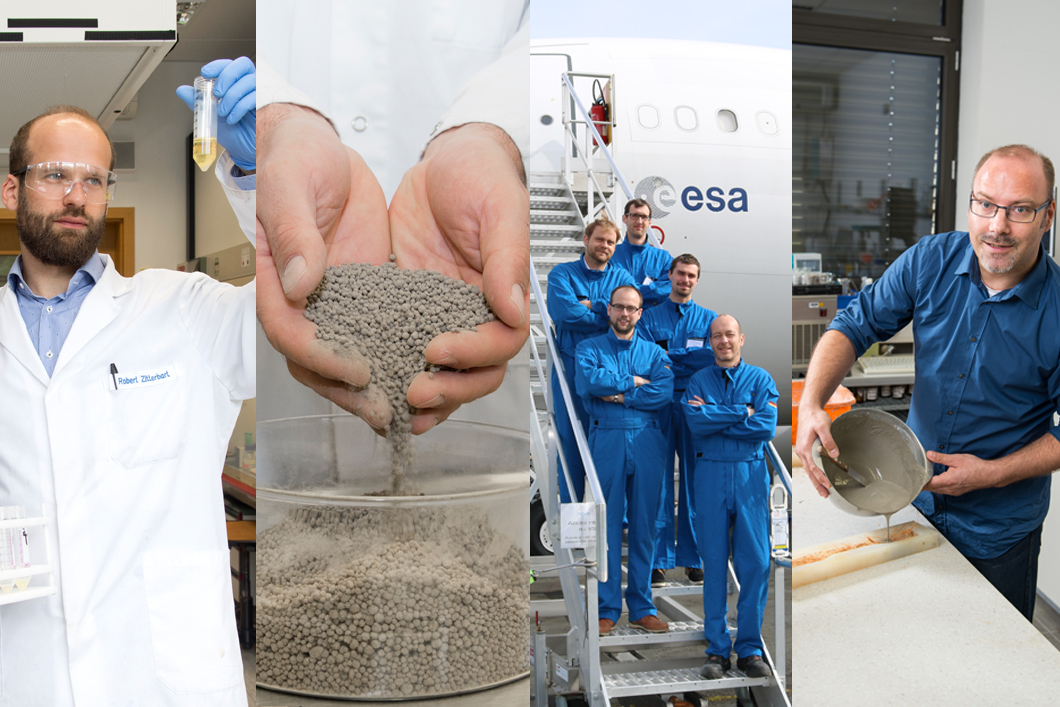 BAM will once again be at the Hannover Messe from April 23 to 27, 2018 to present innovative research projects on the topics of industry 4.0, sustainability and start-ups. Come and meet our scientists, enjoy our hands-on exhibits and learn more about our research. We hope to see you at our stand C51 in hall 2.
Industrial trends
Additive Manufacturing: 3D Printing in Space
Research in zero gravity: The team of Prof. Jens Günster, head of the Ceramic Processing and Biomaterials division and high-performance ceramics professor at the Clausthal University of Technology will show vistors how additive manufacturing under microgravity conditions works. The goal of the experiments is to show that astronauts could make their own tools or spare parts during their space mission using 3D printing technology.
The Powder-based additive manufacturing in zero gravity project aims to produce components by applying layers of a flowable powder using 3D printing in zero gravity. The challenge lies in stabilising the powder bed without gravity. The researchers have therefore developed an innovative method that enables powders to be processed under a protective gas atmosphere.
Read more about "Printing a spanner in space"
Sustainibility
Technology of Construction Materials: Bio-concrete pioneer
Dr. Wolfram Schmidt from the Technology of Construction Materials division is leading a project on sustainable concrete. The goal is to develop the best concrete for the construction industry using readily available and cheap materials. The idea is to replace the chemical and mineral additives in the concrete with plant-based ingrediants. Schmidt wants to achieve this with the help of vegetable starch. He is experimenting with starch that is extracted from cassava or manioc plants. These plants are grown in large quanities in Africa.
Read more about "Everything flows – even in concrete"
Read more about "We are working with Africa's concrete experts"
Read more about "Bio-concrete pioneer"
Phosphorus Recovery: Next Generation Fertilizers
BAM scientist Dr. Christian Adam and his team from the Thermochemical Residues Treatment and Resource Recovery division are working on developing a fertiliser that delivers nutrients to the growing plant precisely when it is needed.
Thermally treated sewage sludge is particularly well suited for the recovery of phosphorus as sewage sludge ash contains high phosphorus concentrations and is easy to recycle. Sewage sludge is produced in large quantities in wastewater treatment plants and can be further processed into ash by high temperature incineration. During combustion, energy can be produced and organic pollutants such as drug residues safely destroyed. Phosphorus contained in the sewage sludge remains in the ash and can be further processed into a "next-generation fertiliser".
Read more about "Phosphorus recovery: Next generation fertilizers"
Start-ups
Young entrepreneurs are developing novel methods for purifying natural products
Belyntic, a start-up project of the Humboldt-Universität zu Berlin, has developed an innovative purification method for chemically synthesised peptides. The technology should now be brought to market maturity for which BAM is providing laboratory and office space as a cooperation partner to the founder team.
Peptides are a class of natural products that are composed of amino acids. They are indispensable for any metabolic process thus they are now among the most promising drug candidates in therapeutics. For peptides to be used as active ingredients, however, they must be available in an exceedingly pure form. The problem is that the methods currently used for peptide purification are time-consuming and cost-intensive. This is where Belyntic begins: The method is suitable for fast, reliable and simple peptide purification from milligram to kilogram scale, without using high pressure. In addition, no organic solvents are required. As a result, this process is a cost-effective and environmentally friendly alternative to existing processes.
Read more about "Purification of peptides: Chemistry start-up using BAM-Knowhow"
More information about Belyntics
+++++++++++++++++++++++++
Notice about conditions of use for (motion) pictures
The Bundesanstalt für Materialforschung und -prüfung (BAM) grants the users a non-exclusive, non-transferable license, unlimited in time and place, for the use of the (motion) pictures offered by BAM. All rights to the (motion) pictures, including all copyrights and other commercial property rights relating to the (motion) pictures, remain with BAM. A license for use which exceeds the granted usage permit (PDF) must be requested directly from BAM for individual cases.
Further Information
Publications