BAM establishes research network Alumni@BAM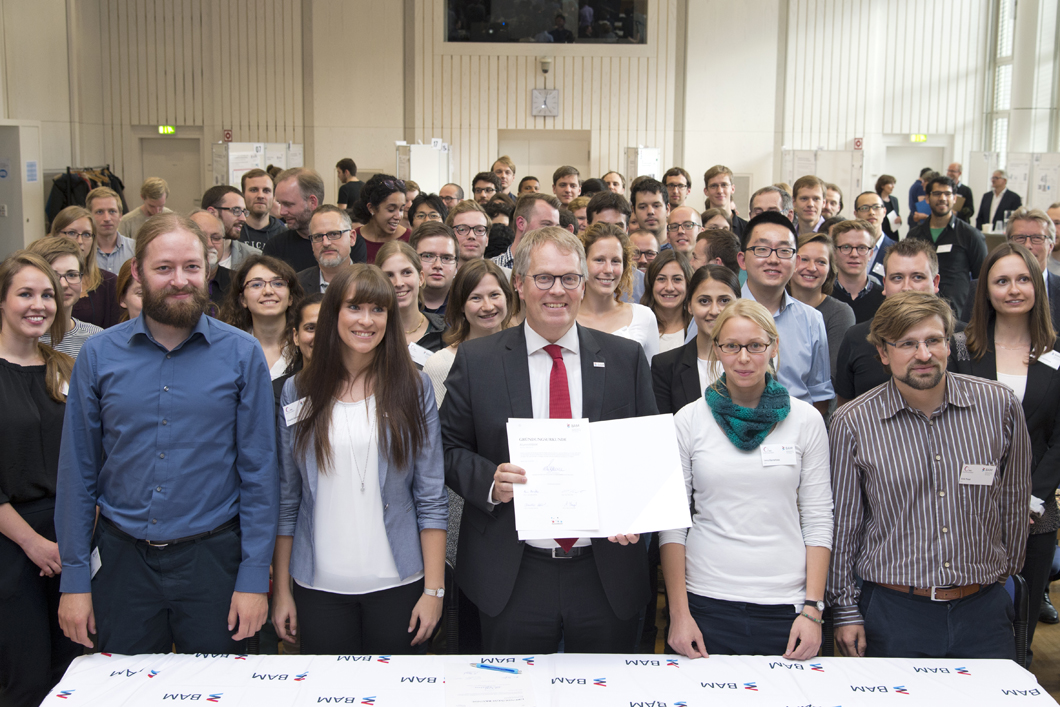 BAM is announcing today an alumni network for former staff who completed their Ph.D., researched or worked at BAM. Alumni@BAM's goal is to provide a platform that promotes a lively exchange of knowledge and information.
BAM celebrated the foundation of the network at its annual Ph.D. Day on 21st September 2017. In addition to BAM President Prof. Ulrich Panne, the initiators of the network, BAM Ph.D. students Lena Barnefske and Claudia Kästner as well as Erik Thiel and Marco Hampel also attended the event.
"We want to provide new impulses for innovative research in Germany with the BAM alumni network," says BAM President Prof. Ulrich Panne. "Alumni will be able to maintain contacts with colleagues, learn about various BAM research topics or use the network for cooperations."
Alumni@BAM offers various information and networking opportunities to its members. Former BAM staff can regularly attend presentations, workshops and alumni events, and can exchange ideas directly with their colleagues across time zones and countries worldwide..
Membership is free of charge and open to everyone who were active at BAM. You can find more information about the BAM alumni network at www.bam.de\alumni.
About BAM
BAM promotes safety in technology and chemistry.
As a BMWi departmental research institute, BAM performs research, testing and offers advisory support to protect people, the environment and material goods. Its activity in the fields of materials science, materials engineering and chemistry is focussed on the technical safety of products and processes.
BAM's research is directed towards substances, materials, building elements, components and facilities as well as natural and technical systems important for the national economy and relevant to society. It also tests and assesses their safe handling and operation. BAM develops and validates analysis procedures and assessment methods, models and necessary standards and provides science-based services for the German industry in a European and international framework.
Safety creates markets.
BAM sets and represents high standards for safety in technology and chemistry for Germany and its global markets to further develop the successful German quality culture "Made in Germany".