Origami nanostructures to track individual molecules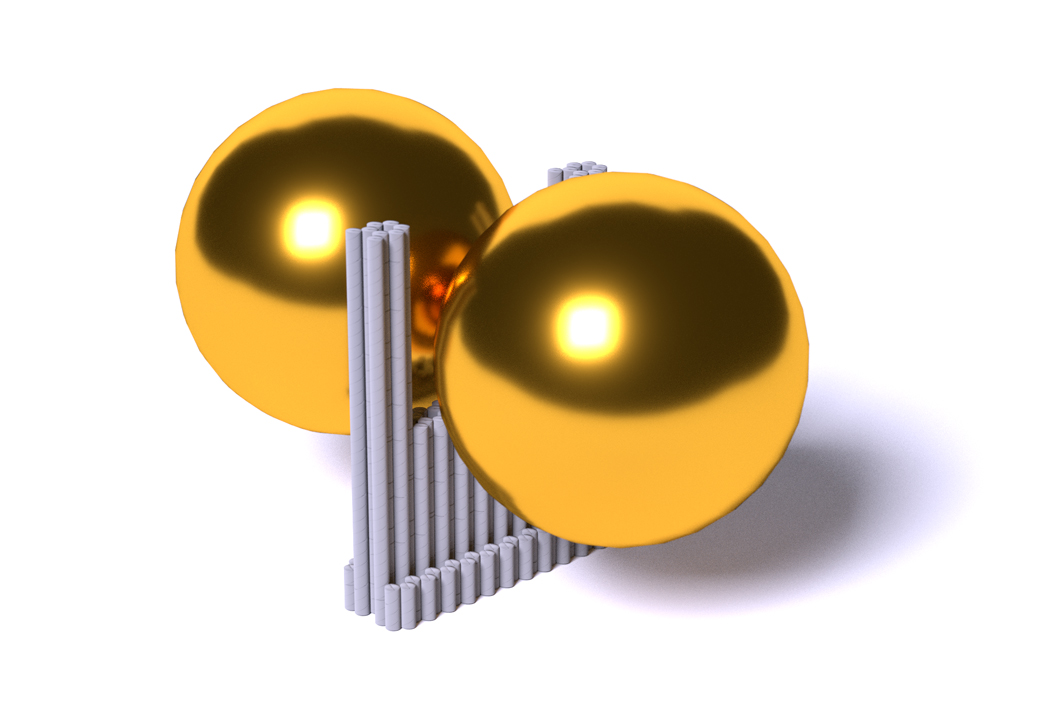 One of chemistry's greatest challenges is investigating reaction mechanisms at the level of single molecules. This can be performed using Raman spectroscopy – provided that molecules and metallic nanoparticles can be arranged with great precision. Based on a joint appointment by the Bundesanstalt für Materialforschung und -prüfung (BAM) and the University of Potsdam, Prof. Ilko Bald and his team are researching the arrangement of nanoparticles and molecules using DNA origami nanostructures. Prof. Bald received a prestigious ERC Consolidator Grant from the European Research Council (ERC) for this research. The award is endowed with around 2 million euros for setting up his own research group. A total of 2,538 applications have been submitted – of which only 329 are being supported as ERC Grant for pioneering research and scientific excellence.
"SMART DNA: Single-Molecule Analytical Raman Tools based on DNA nanostructures" is the project that will run for five years and be carried out at the University of Potsdam. The research group also includes four Ph.D. students from the Graduate School SALSA – School of Analytical Sciences Adlershof (Humboldt-Universität zu Berlin), where Prof. Bald has been on the faculty since 2013.
"The ERC award emphasises the outstanding performance of the team headed by Prof. Bald," says BAM President Prof. Ulrich Panne. "Within this joint project, the University of Potsdam and BAM are combining scientific know-how from analytical chemistry and nanotechnology to investigate specific questions from practice."
In essence, it is about developing new tools that can be used to perform highly sensitive measurements on relatively complex molecules such as proteins to ultimately understand their reactions. "Above all, we are interested in reactions in which electrons are transferred from a nanoparticle to a molecule," explains Prof. Bald. "These reactions may, for example, play a role in cancer treatment with tumour radiotherapy." For this purpose, artificial DNA nanostructures are manufactured using the origami technique and functionalised by metallic nanoparticles. This enables studying chemical reaction mechanisms in great detail. This can help to develop new forms of treatment.
"We are very glad that Prof. Bald has joined ranks of the exclusive club of ERC grant recipients. As a research university we are very pleased about this special award and say congratulations to Mr. Bald on his great success," says the President of the University of Potsdam, Prof. Oliver Günther, Ph.D. The techniques developed in the project can enable novel investigations on biomolecules that are relevant to a variety of research areas.
About BAM
BAM promotes safety in technology and chemistry.
As a BMWi departmental research institute, BAM performs research, testing and offers advisory support to protect people, the environment and material goods. Its activity in the fields of materials science, materials engineering and chemistry is focussed on the technical safety of products and processes. BAM's research is directed towards substances, materials, building elements, components and facilities as well as natural and technical systems important for the national economy and relevant to society. It also tests and assesses their safe handling and operation. BAM develops and validates analysis procedures and assessment methods, models and necessary standards and provides science-based services for the German industry in a European and international framework.
Safety creates markets.
BAM sets and represents high standards for safety in technology and chemistry for Germany and its global markets to further develop the successful German quality culture "Made in Germany".
About the University of Potsdam
With 20,000 students and six faculties, Potsdam University, founded in 1991, is the largest university in Brandenburg. It is also the only teacher-training institution in the state. Its priority research areas include Earth Sciences, Functional Ecology and Evolution Research, Cognitive Sciences, Plant Genome Research and Systems Biology. The university is closely networked with research institutions in Potsdam and the region. Its targeted internationalisation strategy helps make Potsdam an attractive location for junior scientists from Germany and abroad. Potsdam Transfer, the university centre for start-ups and innovation, knowledge and technology transfer, ensures that innovation from research is translated into practice.
About the School of Analytical Sciences Adlershof (SALSA) at the Humboldt-Universität zu Berlin
As part of SALSA, more than 70 Ph.D. students from almost 30 nations – the SALSA fellows – are working on different multidisciplinary issues of analytical sciences. The Fellows are supervised by more than 50 scientists working in teams. The Graduate School was established in 2012 under the Excellence Initiative at the Humboldt-Universität zu Berlin and works closely with 9 scientific institutions, including the BAM and the University of Potsdam in the Berlin-Brandenburg region. Internationally, SALSA cooperates with the Swiss Federal Institute of Technology Zurich (ETHZ, Switzerland), Hebrew University Jerusalem (HUJI, Israel) and the Universidad de Oviedo (Spain).
Further Information