LNDW 2017: BAM will demonstrate why tonic water shines and what fingerprints can tell us about metals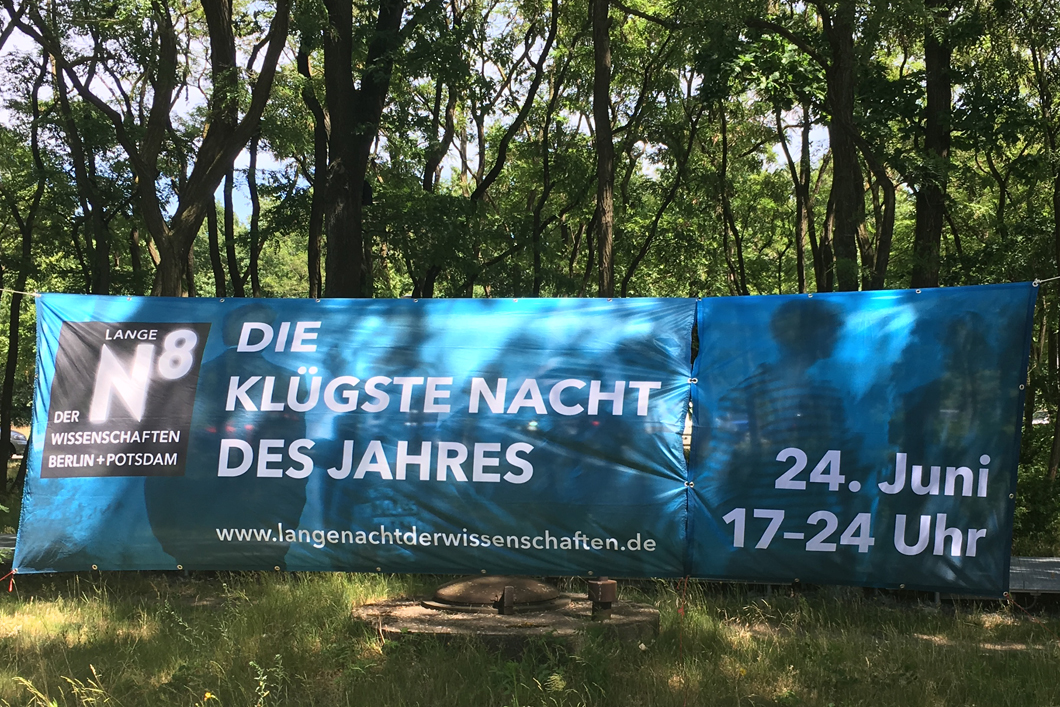 On 24th June, at the Long Night of the Sciences, the Bundesanstalt für Materialforschung und -prüfung (BAM) offers hands-on research to be tried out by the whole family. The audience can see experiments and demonstrations on how to 'Visualise the invisible'.
On the BAM campus in Adlershof, scientists will show you how to recognise real banknotes, visualise sugar in beverages or detect metals using fingerprints. Children can try their skills as environmental detectives and the "BAM Science Lounge" will provide relaxed music, snacks and soft drinks for visitors.
At the Berlin Free University, BAM will demonstrate how termites and cockroaches communicate with each other using fragrances. Visitors can learn the social behaviour of cockroaches at close range in a small insect zoo.
Curious? Come and visit BAM at the Long Night of Science in Berlin!
When:
24 June 2016, from 17:00 hours to 23:00 hours
Where:
BAM Adlershof Site
Richard-Willstätter-Straße 11, Building 8.05, 12489 Berlin
A shuttle bus will transport visitors from Forum Adlershof to the BAM campus every 30 minutes.
BAM at the Free University
Königin-Luise-Straße 12-16, Building No. 19, 14195 Berlin
Tickets and prices:
Adults: 14 euros, reduced: 9 euros. Family ticket: 27 euros. Children under 6 years: admission free.
Advance sales: all ticket machines and sales points of the Berlin commuter train (S-Bahn) and Berlin Transport (BVG) and online until 20th June 2017 at www.langenachtderwissenschaften.de
Programme overview
Environmental detectives can trace plastic particles
Our growing plastic waste is a major problem for the environment. When plastic waste (plastic bottles, plastic bags, old toys) is decomposed by wind, sun and water, tiny microplastic particles are generated. Your detective eyes and secret maps will be able to detect plastic parts on BAM's site before they disintegrate into microplastics. For children over six years.
Start: 17:00 hours, end: 21:00 hours
Let there be light!
Luminous test strips and 'smart' particles can detect sugar in beverages and ethanol in adulterated fuel. Visitors can carry out this test themselves and also try out a microfluid system.
Start: 17:00 hours, last tour: 23:00 hours, cycle: 60 mins.
Metal detection using a fingerprint
We "read from our hands" and show how fingerprints can provide metal signals. For this purpose, multielement analyses of different metal samples are carried out. The demo also includes a presentation of devices and a tour of the laboratory.
Start: 17:00 hours, last tour: 23:00 hours, cycle: 60 mins.
Plastics – more than just plastic bags
Plastics are an integral part of our everyday life. We show different types and applications for plastics and what they look like in their initial shape – from the origin of the plastic bag to an ear printed by a 3-D printer.
Start: 17:00 hours, last tour: 23:00 hours, cycle: 60 mins.
Some like it hot
Some substances such as phosphorus are only useful (e.g. as plant fertilisers) when treated in a special oven at over 1300 degrees Celsius. We demonstrate how mixtures of substances change their colour due to a high-temperature reaction. With the help of X-ray fluorescence analysis, we then check which additives cause the colour change. An X-ray diffractometry will show how the properties of the material have changed.
Start: 17:30 hours, last tour: 23:30 hours, cycle: 60 mins.
Luminous particles – fluorescence phenomena in everyday life
Luminous particles are particularly useful in bioanalysis, medical diagnostics and materials research. They serve to analyse substances qualitatively and quantitatively or to visualise structures and processes in living cells. We will show how fluorescence phenomena can be observed in our everyday life and demonstrate why tonic water shines and how real banknotes can be recognised.
Start: 17:30 hours, last tour: 23:30 hours cycle: 60 mins.
Detection of breath alcohol – is everything really measurable?
We demonstrate the procedure and measure breath-alcohol content – before and after the consumption of liquor chocolates. The breath alcohol test has shown its worth in practice as an alternative to blood samples. BAM is a manufacturer of ethanol reference materials for calibrating police breathalysers.
Start: 17:00 hours, last tour: 23:30 hours
BAM programme at the Berlin Free University
Social cockroaches
We show live cockroaches and termites and illustrate their social behaviour. Visitors can watch the communication of cockroaches and perform behavioural experiments. Touching the exhibits is also allowed!
Start: 17:00 hours, continuous
Learning from fungi: life-artists of solar panels and desert stones
Visitors will get to know the all-round adaptability of a small model fungus. To help with the demonstration, a model DNA molecule will be available for you to hold.
Start: 17:00 hours, continuous
About BAM
BAM promotes safety in technology and chemistry.
As a BMWi departmental research institute, BAM performs research, testing and offers advisory support to protect people, the environment and material goods. Its activity in the fields of materials science, materials engineering and chemistry is focussed on the technical safety of products and processes. BAM's research is directed towards substances, materials, building elements, components and facilities as well as natural and technical systems important for the national economy and relevant to society. It also tests and assesses their safe handling and operation. BAM develops and validates analysis procedures and assessment methods, models and necessary standards and provides science-based services for the German industry in a European and international framework.
Safety creates markets.
BAM sets and represents high standards for safety in technology and chemistry for Germany and its global markets to further develop the successful German quality culture "Made in Germany".
Further Information