BAM certified as a family-friendly employer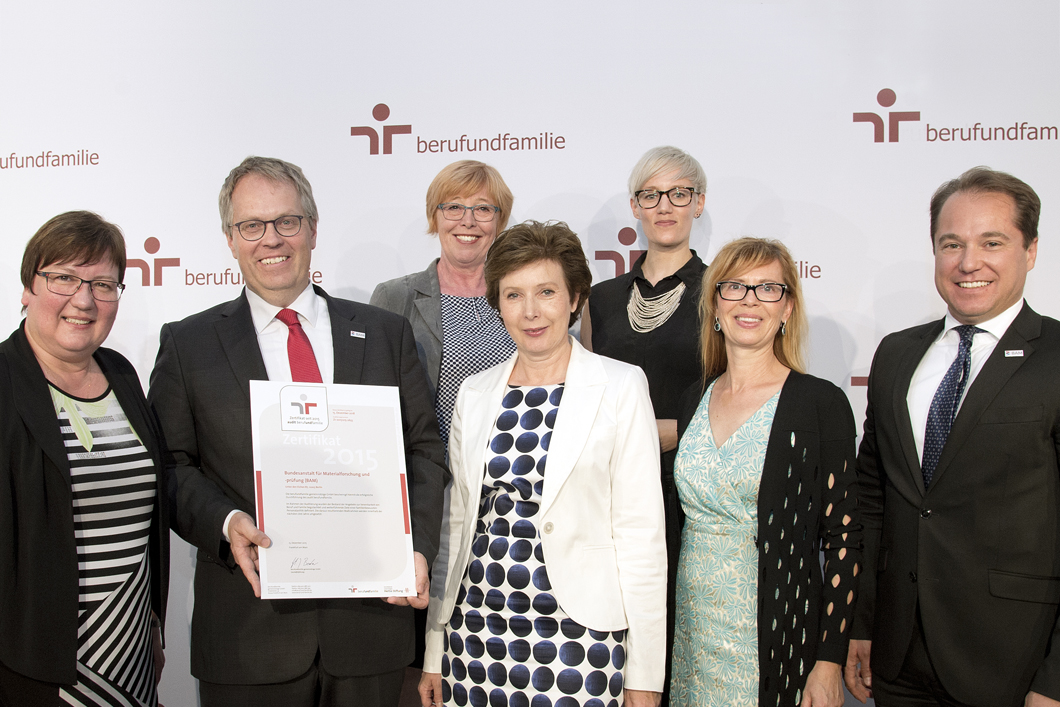 The Bundesanstalt für Materialforschung und -prüfung (BAM) was awarded the "audit berufundfamilie" (job and family audit) certificate today for its family-friendly personnel policy. BAM is thus one of 56 employers in 2016 who have successfully passed the auditing process of the berufundfamilie Service GmbH for the first time.
"As a departmental research institution, the reconciliation of work and family is a particularly important issue, especially in the environment of increasing competition for the best minds in research," said BAM President Professor Dr. Ulrich Panne. "We are all the more pleased that our commitment has been rewarded with this certificate".
Family-friendly working conditions
BAM employees are already benefitting from family-friendly measures. The offers range from the availability of parent-child-offices to flexible working hours. They enable BAM employees to balance their work and family responsibilities.
In the next three years daily work conditions at BAM will be designed in an even more family- and life-phase-conscious manner. Central features will be part-time and telework, employer support during family-related non-work phases and family-oriented health services.
Find more information on career and family at BAM here.
About "audit berufundfamilie" (job and family audit)
The "audit" can be used in all industries and different company sizes. It registers the status quo of family- and life-phase-conscious measures offered, systematically develops the company-specific potential and makes binding target agreements in order to anchor family awareness in the organisational culture. The employer may only continue to use the certificate upon a successful re-audit. Over 1,600 employers have been awarded the certificate since the "audit" was introduced in 1998. Around 1,000 employers are certified in Germany under the "audit berufundfamilie" or "audit family-friendly university", including 496 companies, 118 institutions and 118 higher education institutions. Over 1.79 million employees and more than 1.45 million students can benefit from this scheme.
About BAM
BAM promotes safety in technology and chemistry.
As a BMWi departmental research institute, BAM performs research and testing and advisory activity to protect people, the Environment and material goods. Its activity in the fields of materials science, materials engineering and chemistry is focussed on the technical safety of products and processes. BAM's research is directed towards substances, materials, building elements, components and facilities as well as natural and technical systems important for the national economy and relevant to society and tests and assesses their safe handling and operation. BAM develops and validates analysis procedures and assessment methods, models and necessary standards and provides science-based service for the German industry in a European and international framework.
Safety creates markets
BAM sets and represents high standards for safety in technology and chemistry for Germany and its global markets to further develop the successful German quality culture "Made in Germany".
Further Information
Publications