Research cooperation with BAM, Siemens, TU Berlin and Fraunhofer celebrates its kick-off
01/07/2019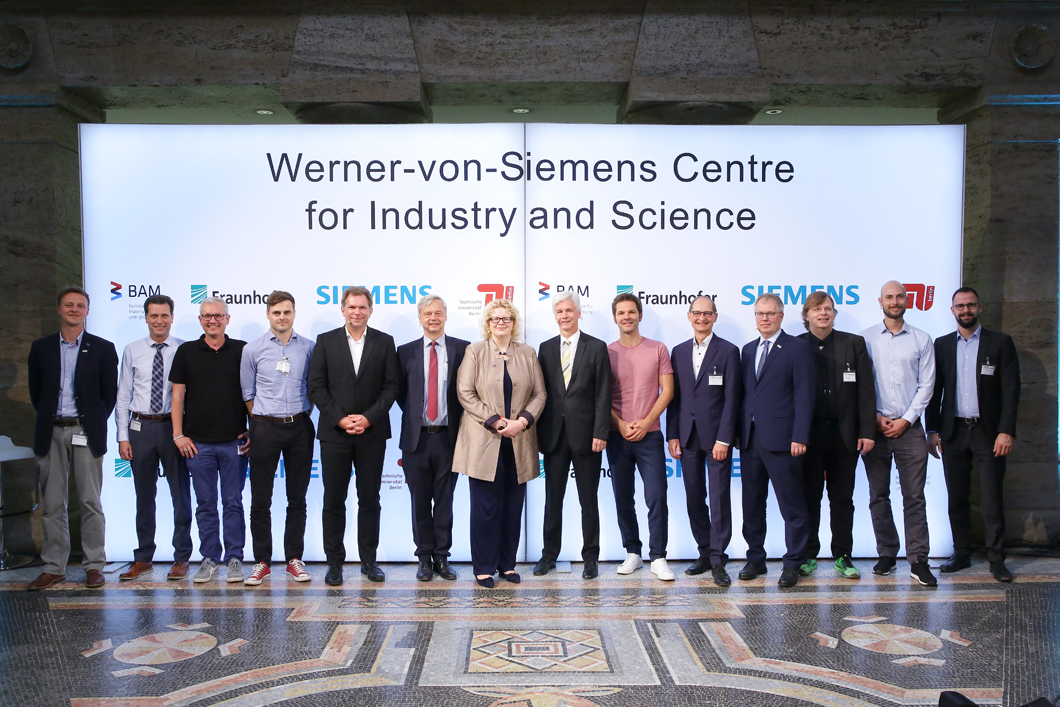 Let's talk innovation: On the 27th of June, the Berlin Senate, Siemens, TU Berlin, Frauenhofer Society and BAM came together under this slogan in the Siemens Mosaikhalle to officially kick-off the joint research cooperation. This follows the signing of a joint Memorandum of Understanding in October 2018 by the State of Berlin – represented by the Senate Chancellery Higher Education and Research and the Senate Department for Economics, Energy and Public Enterprises – Siemens AG, the Technical University of Berlin, the Frauenhofer Society and BAM. This Memorandum aims to develop a new industrial and scientific campus at the Siemensstadt location.
The cooperation project was previously termed the 'Industry and Scientific Campus Berlin', now, the research cooperation's new name has been revealed: the Werner-von-Siemens Centre for Industry & Science. Within the framework of this project designed together by the partners, science and industry will work hand in hand toward innovative solutions for digitisation, additive manufacturing and new materials. The Werner-von-Siemens Centre for Industry and Science is part of the planned 'Siemensstadt 2.0' and is the first building block of a major ten-year project.
More than 20 small and medium-sized enterprises are also involved; from start-ups to established companies, all contributing their specific knowledge ranging from robotics to tool technology.
1.5 million euro for three new professorships
The State Secretary for Science and Research, Steffen Krach, attended the kick-off too, not only underlining the importance of the project for the city of Berlin and but also announcing financial commitment for three professorships at the TU Berlin. During the subsequent panel discussion with the partners, BAM President, Ulrich Panne, emphasised the importance of people themselves for such cooperation, as it is their expertise which ultimately makes innovations possible in the first place.
At the accompanying microfair, BAM demonstrated its expertise in the field of safety in additive manufacturing and illustrated the possibilities of the process using additively manufactured 'BAM' letters.
Werner-von-Siemens Centre for Industry and Science shown in a video:
Further Information