Prescription drugs in breast milk: BAM PhD student develops an easy-to-use strip test
09/11/2018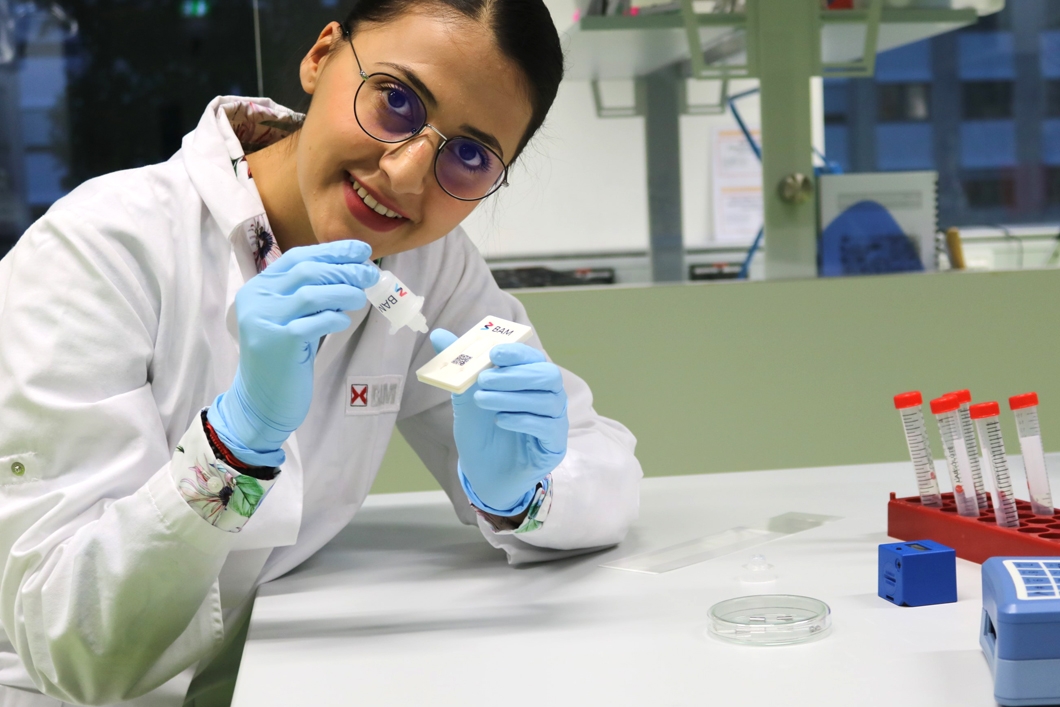 Youtube: Anna Raysyan - Breaking the Wall of Complicated Lab Methods (Falling Walls Lab 2018)
Sometimes moms who breastfeed need to take medications. The concentration of the prescription drug in the blood affects its amount in the breast milk. That is why medical professionals often recommend taking short-acting medicine right after breastfeeding, so that any residue is out of your system by the next feeding. However, often uncertainty remains if and how much of the medicine is passed on through the breast milk.
Anna Raysyan, a PhD student from the Environmental Analysis division at BAM has developed a simple and genius rapid test for it. Only a few drops of breast milk is necessary to determine within five minutes the level of drug substances in the breast milk. There is also going to be an app for it soon. With her research, the PhD student even made it to the final of the international Falling Walls Lab competition, where the top 100 pitch their research ideas.
Anna Raysyan, what is the topic of your research?
My scientific interests lie in the field of immunoanalytical techniques for assessing the appearance of emerging pollutants, especially ecotoxic compounds and endocrine disruptors, in the environment. One important method, for example, is a strip test, so-called lateral-flow immunoassay, similar to many pregnancy tests. My first contaminant to analyze for was bisphenol A, in short BPA, a hormonally active compound which is released from certain plastic materials. Now I am using the same technique for the research on my test strip that will enable everyone to determine the painkiller diclofenac in breast milk.
Why did you decide to research on this topic?
I graduated from the Department of Pharmacy at I.M. Sechenov First Moscow State Medical University. Due to my medical background, friends and family often ask me questions about negative side effects of medications, especially on babies. I will give an example: Once, a doctor prescribed the analgesic diclofenac, a widely used painkiller, to my cousin, which she should take regularly for several weeks. She had just given birth to a child and in that moment she worried that the medication intended for her might harm the baby. This situation was an inspiring moment in my life. It motivated me to develop a device, which will help all women in a similar situation to determine themselves if there are medical compounds in their breast milk. Why not? After all, I am a scientist and I always wanted to pursue ethical ideals. Moreover, I wished that the device should be as easy to use as the established pregnancy tests. And I wanted to develop a connection of the device with the smartphone in order to store and transmit results.
What's next – what other ideas do you have?
Nowadays, pregnancy tests have become the most common diagnostic tools used at home. My quick test will allow to analyze for diclofenac in breast milk and to obtain the measurement results on a smartphone. Next steps would be to expand this capability to allow testing for other medicines in the same sample. Quality assurance studies and a thorough validation of the accuracy of the results in real breast milk samples have to be performed. The special smartphone app should connect users to a secure website for further advice and, in case of doubt, allow them to discuss the results directly with a medical professional. These developments are not any more part of my PhD research. But they could be carried out at BAM or by a spin-off of it. My research goal was to help women to take control of the safety of their breast milk and move that moment of discovery from the doctor's office to their homes.
Further Information