BAM provides guidance in the jungle of vocational training
28/06/2018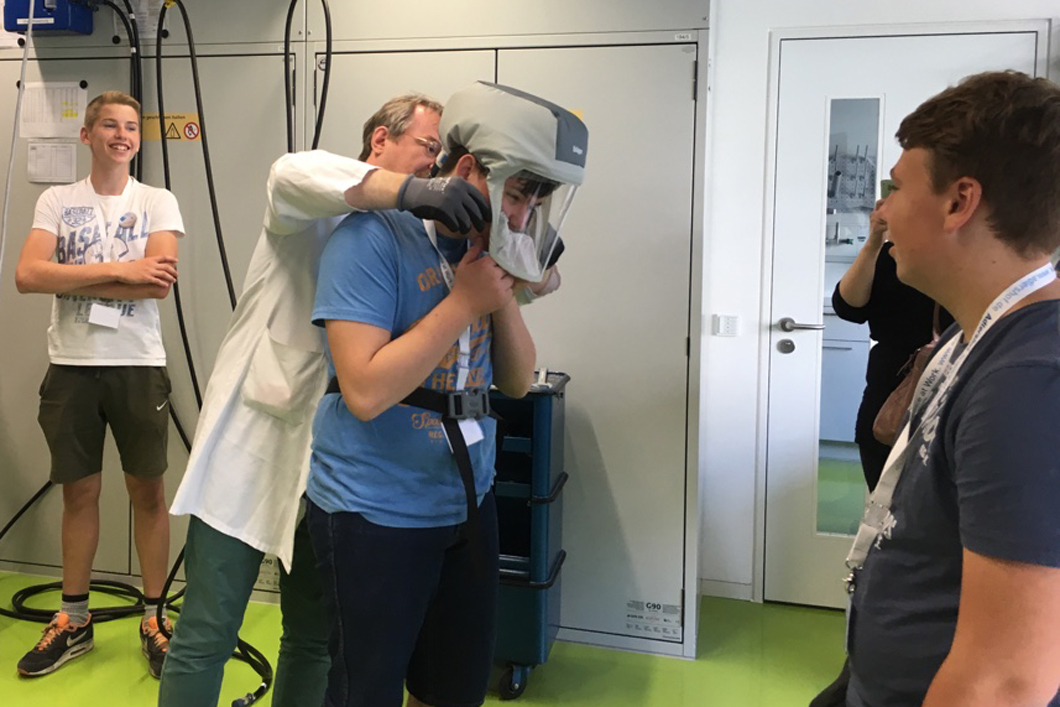 Vocational training at BAM is highly thought of and has a long tradition: for more than 40 years, BAM has been training young people in a wide range of professions such as materials analyst, industrial mechanic, chemical laboratory technician and electronics technician. At the Ausbildungs-Allianz-Adlershof training event, which took place in Berlin Adlershof on 19 June 2018, BAM gave a hands-on experience to 160 pupils from the ninth to the thirteenth classes as a potential employer and explained the available apprenticeships. In addition, those interested had the opportunity to look behind the scenes at BAM's Analytical Chemistry Department.
Eight students took this opportunity and visited the Structure Analysis Division's experimental workshop and the Process Analytical Technology divisions. At the Process Analytical Technology Division, the pupils learned how gas mixtures are made and what they are used for. As respirator masks often have to be worn when doing this type of work, the group had an opportunity to practice its use and gained a realistic insight into the working environment. A subsequent discussion with BAM apprentices enabled open questions to be clarified. Of particular interest was the working atmosphere at BAM, the training courses and in particular the commuting between vocational school and practical work and specific issues relating to the actual work during training.
Anke Rau works at BAM's Vocational training, Further Education, Equal Opportunities and Health Management Section and considers BAM's participation in the Ausbildungs-Allianz-Adlershof training event a great success: "We have been able to help the pupils find their way in the jungle of vocational training. A well thought-through choice of vocational training and a realistic job concept are very important because: "Satisfaction with the career choice plays a crucial role in the successful completion of vocational training and a fulfilling professional life."
Further Information