From Brazil to Berlin: international promotion of young talents at BAM
09/02/2018
BAM promotes young scientists in a variety of ways. For example, there has been a very good cooperation with the International Association for the Exchange of Students for Technical Experience (IAESTE) for 25 years. The non-profit organisation supported by the German Academic Exchange Service (DAAD) provides internships abroad to students in over 80 countries. Maitê Thomaz, a master's student in Energy and Environmental Engineering and Urban Planning from the Federal University of ABC in Sao Paulo, Brazil, is currently completing an eight-week internship at BAM's Constructive Fire and Explosion Safety for Gases division. The division investigates design measures to safeguard against fire and explosions in mobile or stationary facilities, facility components and systems where gases are used.
Maitê Thomaz helps with the preparation of various tests and investigates, for example, fragment throw distances of LPG spare wheel tanks in case of failure. The aim is to assess risks to people and infrastructure and to minimise potential damage using protective equipment and concepts.
"It's very interesting to see how the tests go – from the preparation to the results. These experiences are very valuable to me and working in a team is a lot of fun," the trainee explained. In addition to the professional knowledge she has gained, she is also pleased about her stay in Berlin: "Berlin is a wonderful city. I keep discovering new things that I like. I also like the weather – I saw snow for the first time. "Maitê Thomaz shared her internship experiences during the IAESTE Annual Conference.
At the IAESTE anniversary celebration on January 20, 2018, which took place at the Annual Conference, BAM was praised for its long-standing support of IAESTE and was awarded a prize for actively promoting the exchange programme with international students by providing internships.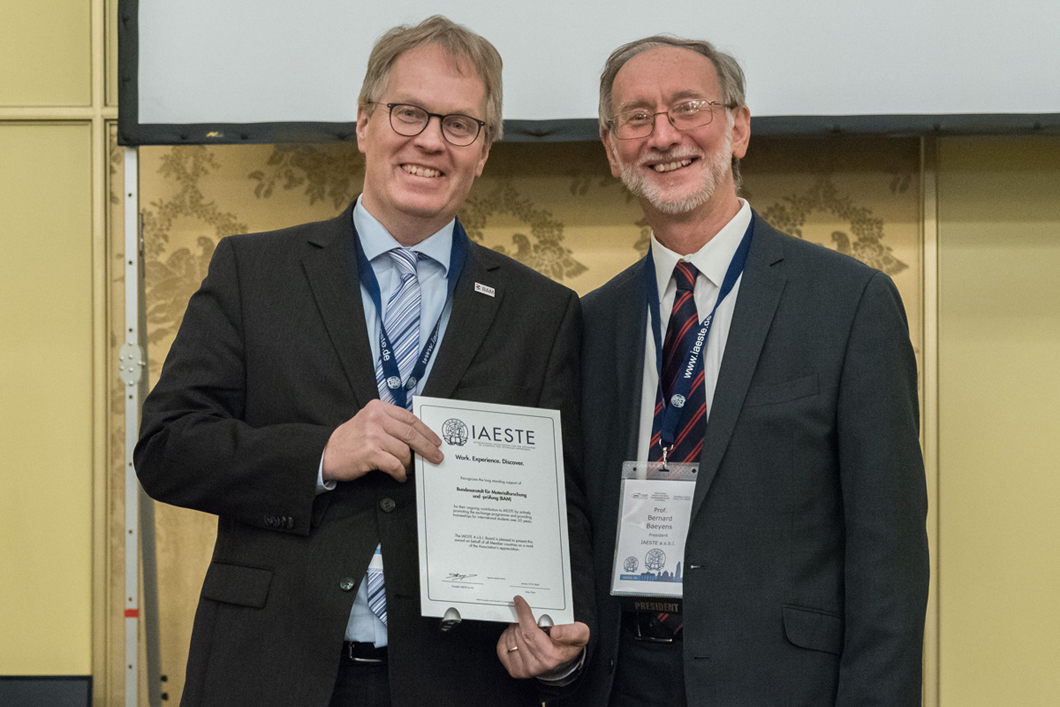 Further Information