When cows make the yogurt cup
13/12/2017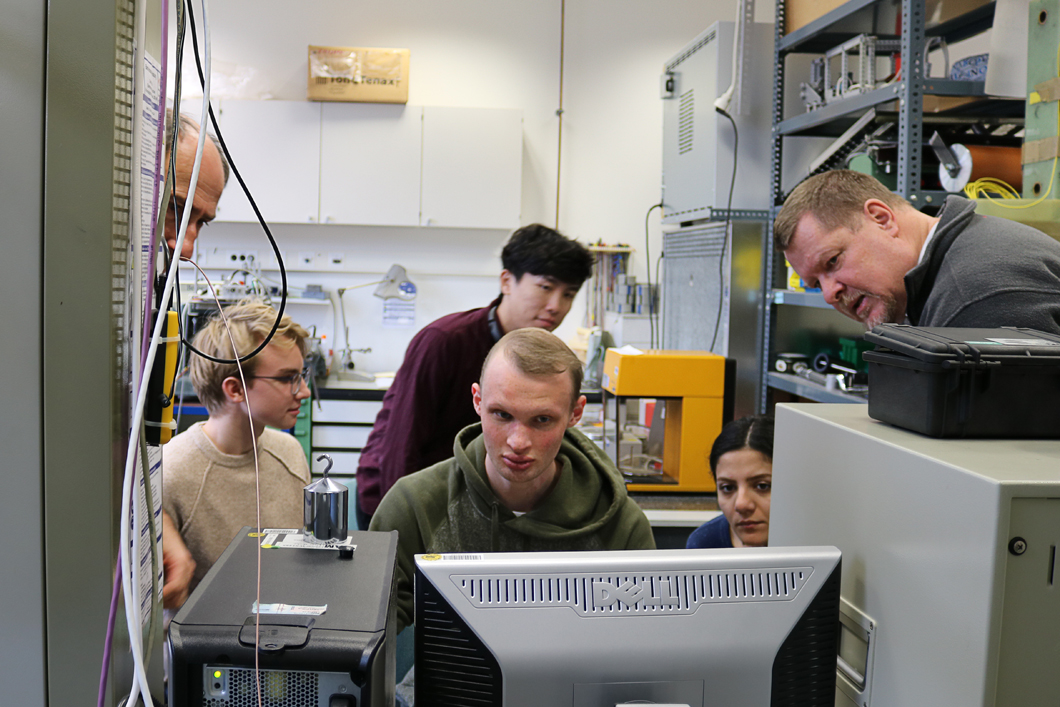 "Milk plastic – cows make the yogurt cup!" is the name of a project launched by Hamburg secondary school students Lars Neveling and Alexander Zwingelberg. They are carrying out experiments within the Jugend forscht (Young researchers) initiative to find the optimum composition of plastics based on milk. The goal is to produce a more sustainable and degradable product than conventional plastics. In search of suitable measurement methods, the students contacted BAM and brought along a number of samples for their visit. The samples were tested with the help of Dr.-Ing. Gerhard Kalinka and his team from the Mechanics of Polymers Division and they also discussed further measurement methods with the students.
Plastic made from milk
The magic word is casein: the protein mixture is present in milk and when it clots, the consistency becomes firm and one gets cheese, for example. The idea of making plastic from casein is not new – the first trials having been made as early as 1897. The developed galalith at the time was used among others for the production of buttons, jewellery and cutlery handles. However, it gradually lost its importance due to the development of new, fully synthetic plastics based on petroleum, a much cheaper raw material.
With regard to recycling and scarcity of raw materials, casein is becoming increasingly interesting again as a raw material for plastics. By adding different substances and using different mixing ratios, the secondary school students were already able to improve 'their' milk plastic. They measured tensile strength, elasticity (buckling resistance), odour, dryness and water solubility, but further and more complex investigations were needed, which is why Lars Neveling and Alexander Zwingelberg contacted BAM. Dr.-Ing. Gerhard Kalinka and his team from the Mechanics of Polymers Division responded to the students' request and took considerable time to carry out the desired tensile strength and elasticity measurements. Special shapes were cut out from the samples they provided in order to optimally clamp the samples in BAM's test device. The students also gained some insight into the division's work.

The measurements at BAM provided new insights as to which plastic composition's behaviour is more or less elastic or stable. The students started their journey home to Hamburg in the afternoon with this information and a few tips for further tests in their luggage. Surely a number of more tests will be needed to find the optimum milk plastic. However, what is important for Lars Neveling and Alexander Zwingelberg is that the new material is environmentally friendly and biodegradable. This enables potential applications such as compostable packaging and foils – and also implants in the body, which degrade without residue after a certain time.
Further Information