PhD Day at BAM: More than "cube-shaped cheese and lousy coffee"
12/10/2017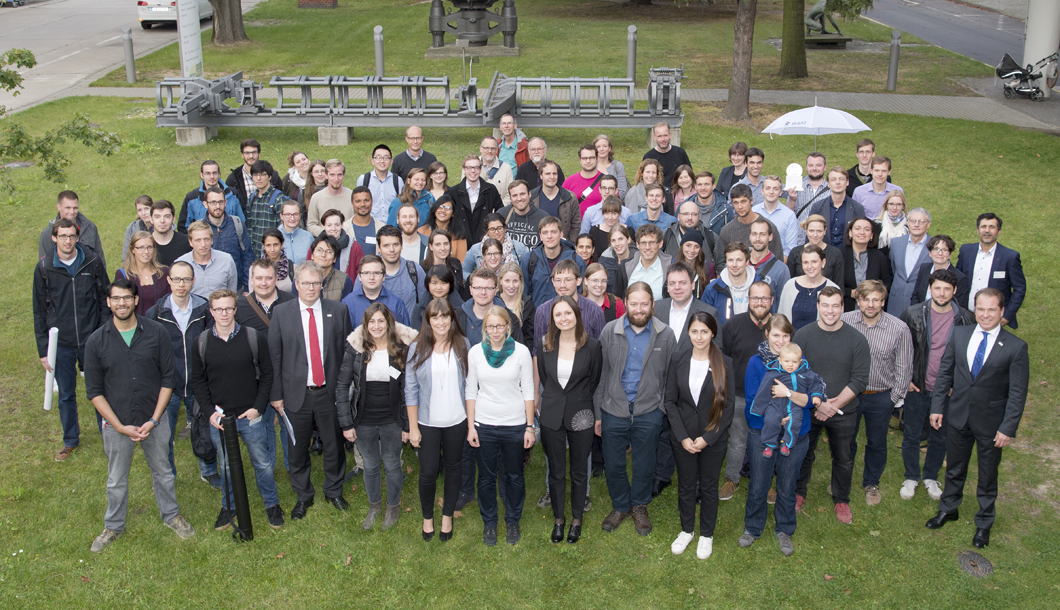 The PhD Day gives doctoral students of all disciplines a once-a-year opportunity to expand their horizons, build connections and get to know other BAM doctoral students and their work. This event, which again gained very positive responses this year, is made possible by a self-organizing team of doctoral students.
Following Dr. Hatice Aydan Acikalin's useful information about BAM's doctoral program, Dr. Brian Richard Pauw provided great advice on improving one's presentation skills. Prof. Heinz Sturm's particularly entertaining presentation, "How not to suck at networking and start enjoying conferences while consuming cube-shaped cheese, canapés, and lousy coffee", explained how networking can succeed even at supposedly boring events.
After motivating themselves with a good lunch, the doctoral students had the chance to learn something about other doctoral students' topics and their work equipment. BAM laboratories opened their doors for six guided tours, offering a wide variety of projects to discover, including current research projects on laser systems, fire tests, and infrared photography.
Purpose-oriented pulse laser precision system wins poster competition
This year witnessed another poster contest with about 50 submitted scientific posters. After the assessment and a feedback round from participating colleagues, excitement grew for the contestants. Finally, Felix Spranger from the Welding Technology Division won the poster prize with a very narrow lead of only a few votes. His poster, titled "Localised Dispersing of Titanium-Di-Boride with Pulsed Laser", convinced the judges, and his name was immortalized on the AK Doktoranden PhD Day Cup.
Alumni Network established
The official segment of the event came to completion with this year's special highlight: the formal foundation of the Alumni@BAM research network. In addition to BAM president Prof. Ulrich Panne, the initiators of the network, BAM doctoral students Marco Hampel, Claudia Kästner, Lena Barnefske and Erik Thiel, also joined in signing the founding certificate.
The subsequent barbecue at the BAM headquarter gave all participants the opportunity to let the PhD Day end in a pleasant and relaxing atmosphere.
Publications