A full lecture theatre at the beginning of the new Focus Area Colloquium Energy
05/10/2017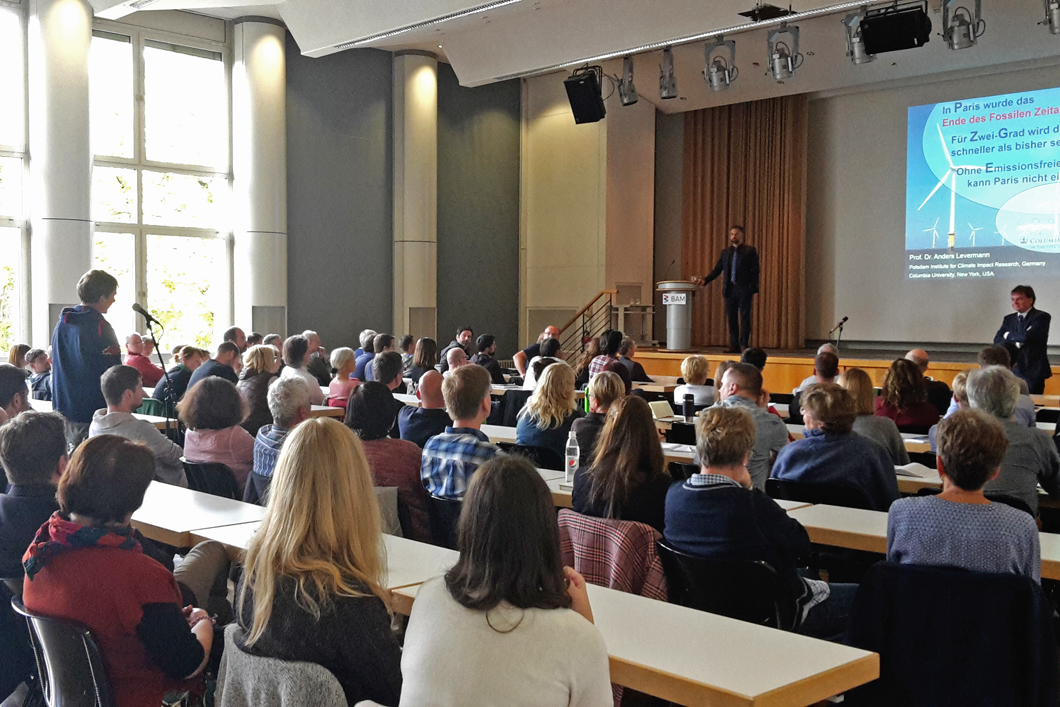 The focus area Energy successfully launched a new series of events with a lecture from Prof. Anders Levermann on "Climate Change: Predictions, Projections and Risks" on 12th September. Nearly 200 participants – mainly from BAM, but also external guests – accepted the invitation to discuss aspects of climate change and assumptions about socio-economic social development in the Focus Area Colloquium Energy using a new approach. Dr.-Ing. Dietmar Klingbeil, Head of the Service Loading Fatigue and Structural Integrity Division initiated the event.
Energy is one of BAM's five focus areas where work is performed. A focus area comprises numerous projects with diverse scientific facets. Research is carried out on both fossil fuels and renewable forms of energy and the entire utilisation chain is considered – from generation through storage and consumption to disposal.
Scientific approaches must consider various perspectives because of this diversity. BAM intends to span the range from measurement data and methods to societal projections using the new series of lectures, the Focus Area Colloquium 'Energy'. How has our climate changed and how will it change in the future? What part does our civilization play in this change? What is the Paris Agreement's significance for climate protection? And what socio-economic changes can be expected in the future?
Further lectures are being planned for the coming months. Guests are welcome.
For further questions and feedback please contact Dr.-Ing. Dietmar Klingbeil at Dietmar.Klingbeil@bam.de or
+49 30 8104-1530.
Further Information