Long Night of Science: BAM is fascinating!
28/06/2017
Was it the unexpected summer weather or the proper music? The doors to the Long Night of Science opened at 5:00 pm and the crowds of visitors did not diminish until midnight. BAM recorded 600 visitors in Adlershof – almost twice as many as last year. It offered a lot to young and old alike – from environmental detectives through guided tours and hands-on science to the popular breath-alcohol tests of the Berlin police. BAM was also present at the Berlin Free University and the exciting views into the social behaviour of termites and "the model DNA to be held" attracted many interested people.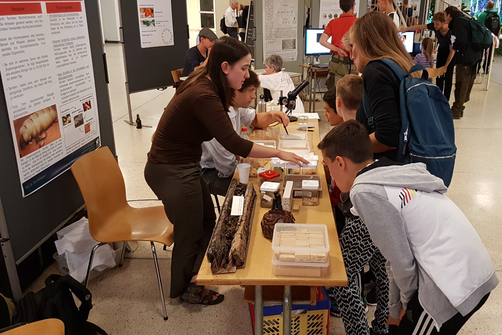 A total of more than 80 BAM colleagues, who were active in the preparation and/or on site, contributed to the success. BAM's research was explained to interested visitors, guided tours were offered, and balloons and sandwiches were organised. The result was a rush to the infostands with many questions by amazed and enthusiastic visitors.
This year Adlershof offered a special programme with sports and mental challenges for the young to explore the campus as a game. Visitors looked at the topic of microplastics and successful environmental detectives received a souvenir certificate. Those who distinguished themselves at the ladder golf were allowed to take home one of the colourful balloons.
After a bit of hustle and bustle, one could relax in the Science Lounge. DJ Björn provided the right musical ambience and the Dorint Hotel served hot food from the grill and cold drinks to the thirsty.
The last guests left the BAM site in Adlershof shortly after midnight and it is already clear: after #lnos17 is before #lnos18.
Prof. Ulrich Panne says: "BAM's presence at the Long Night of Science in Adlershof and at the Berlin Free University this year was made possible by the contribution of many colleagues whose endurance, exciting research results and brilliant ideas are greatly appreciated. I would like to thank them very much for their commitment and trust that I'll be able to count on their and other colleagues' support again next year."
BAM participates in the "Antique quadrathlon" at the opening ceremony at the Berlin Free University
Together with Free University President Peter-André Alt, Technical University President Christian Thomsen and other science managers, BAM President Ulrich Panne joined the students against academics "antique quadrathlon" at the opening event for the Long Night of Science at Berlin Free University. The disciplines were: How to fold a toga? or: How do you get a sound from a snail's shell when playing historical instruments?
Applause was measured after each round using an "applausometer". The "old rabbits" were left with nothing: the upper-level students won 70:50 in the not really serious competition around knowledge and dexterity.
Further Information