"We are creating the foundation for a common material data space"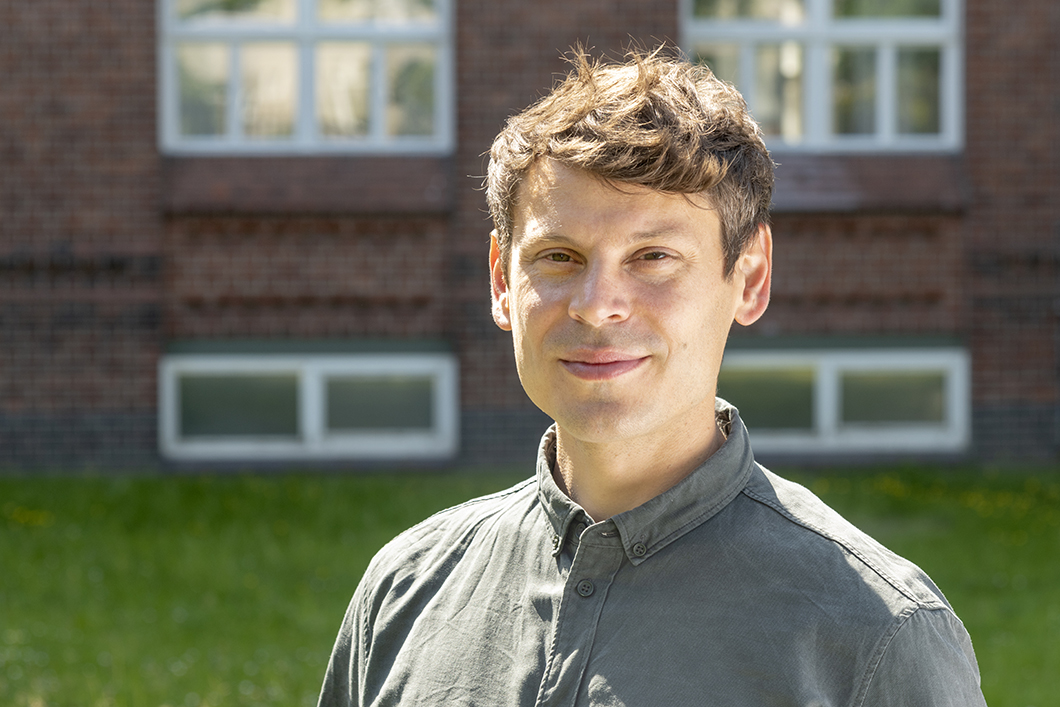 Interview series "Introducing People@BAM"
Dr.-Ing. Bernd Bayerlein, Experimental and Model Based Mechanical Behaviour of Materials Division
Bernd, tell us a little bit about yourself. What did you do in "your life before BAM"?
Since I was a child, I have had a strong fascination with materials and their production, processing, and use. In my studies of materials science, I was then able to live out this innate curiosity at the TU Berlin and the RWTH Aachen. As a materials scientist, you love the PSPP challenges (Processing-Structure-Property-Performance) and you also must break materials for that, which is fun.
Looking back, I probably had the most exciting time at the Max Planck Institute of Colloids and Interfaces in Prof. Peter Fratzl's biomaterials group. There I had the opportunity to do research in a very international, interdisciplinary team between biologists, chemists, and physicists. At that time, we studied a mussel shell layer by every trick in the book, for example, its structural composition using high-resolution tomography at the ESRF (Grenoble) and the mechanical properties considering relative humidity. That was a special PhD time, which even resulted in publications in Nature Materials and in Advanced Functional Materials.
What inspired you to pursue a career in science?
Basically, I was and am simply a scientifically interested person who likes to get to the bottom of things.
In my childhood and youth, sport under competitive conditions was a shaping element for me. I belonged to a relatively active team in Bayreuth. In summer we did roller speed skating and in winter short track. You had to deal with material selection and, for example, adapt wheels to the surface and weather conditions, maintain ball bearings, or grind and polish the short-track blades yourself.
What does your research focus on, and what excites you most about this topic?
I am currently involved in several digital initiatives here at BAM (e.g., Platform MaterialDigital, Mat-o-Lab). Here, the activities are very diverse and include networking and community work, or the entirely new experience of designing ontologies as a materials science and engineering (MSE) expert. By using these ontologies, we can present and make available material data and knowledge in a semantically interoperable way. What is particularly attractive to me is the vision of a shared material data space and, of course, that I have learned so many new skills in the last few years by actively promoting the digital transformation in MSE. That is a great personal gain.
Why research at BAM? What do you like most about your work here?
There is a lot going on at BAM right now in the field of digitalization around materials science and engineering. There are many new colleagues with the most diverse professional backgrounds and nationalities. In addition, there are more and more robots in the labs, I'm thinking of the grinding robot of the Materialography, Fractography and Ageing of Engineered Materials division, which will make it possible to study 3D microstructures in high resolution, or the glass robot of the Glasses division, which I was able to see in action recently. I think that with a little bit of courage something great and long-term can happen at BAM! Now I just enjoy it and I am proud to be actively involved!
Have there been any obstacles in your career so far? And if so, how did you overcome them?
Not really, but there were challenges here and there that could only be solved as a team. I had to admit to myself at the very beginning that you can't solve every problem on your own.
What do you like to do when you're not doing research?
One of my favorite things to do is to explore the forests and lakes in the Berlin area with my family. There, the kids can really be free, and you can relax wonderfully in nature and get inspired.
If you should describe your job at BAM in one sentence/word – what would that be?
Next stop: #digitalization
further information