Safety first
Dr. Goedecke, you just came back from China, where you received the prestigious IAPRI Lifetime Achievement Award for your service to the packaging industry. How was it in China?
The speed of changes is particularly astonishing and breath-taking by German standards: the newly opened congress buildings in Zhuhai, the many high-rise buildings under construction, the 50-km-long bridge from Hong Kong to Macao and beyond ... that's very impressive. People there are very proud of the new infrastructure and of the young scientists. The IAPRI conference was also attended by many young Chinese scientists. I was of course very pleased about being honoured with the IAPRI Lifetime Achievement Award.
IAPRI Lifetime Achievement Award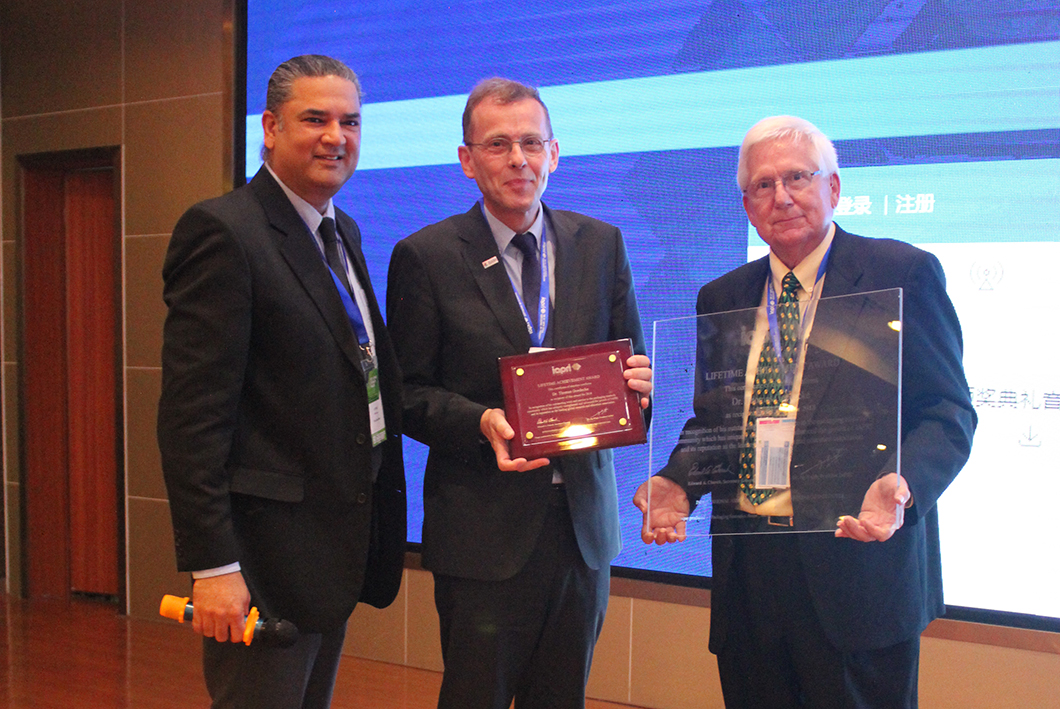 Dr. Thomas Goedecke was honoured with the IAPRI Lifetime Achievement Award by the IAPRI International Association of Packaging Research Institutes in June 2018.
IAPRI grants this award to personalities who have made an outstanding contribution to the packaging industry and the packaging research community. The association operates worldwide and has about a hundred member organisations. IAPRI awarded the Lifetime Achievement Award in 2018 for the third time since its founding in 1971.
Dr. Goedecke was IAPRI President from 2009 to 2016.
Dr. Thomas Goedecke - Curriculum Vitae
1980 to 1984: study at the Technische Universität Berlin, afterwards research fellow at the TU Berlin
1991: Ph.D.: Dr.-Ing. Materials Science
1991: move to BAM: research fellow and various management positions
Since 2015: Head of BAM's Containment Systems for Dangerous Goods Department Numerous memberships and honorary posts in national and international associations and committees
Dr. Thomas Goedecke – Honorary Offices and Memberships (selection)
2009-2016: president of the International Association of Packaging Research Institutes (IAPRI)
2005-2009: vice-president of the International Association of Packaging Research Institutes (IAPRI)
Since 2008: member of the German UN delegation "Committee of Experts on the Transport of Dangerous Goods (TDG)", Geneva, Switzerland
2006-2016: director of the European Division Board of the International Safe Transport Association (ISTA), London
Member of the DIN NAVp board
Convenor of ISO/CEN/TC 261/SC5/WG16 "Dangerous Goods Packaging"
Head of the Packaging Working Group of the Dangerous Goods Transport Advisory Committee's Standing Committee at the Federal Ministry of Transport and Digital Infrastructure (BMVI)
Here at BAM, you are Head of Containment Systems for Dangerous Goods Department. What role does BAM play in the transport of dangerous goods?
In terms of dangerous goods transportation, BAM is particularly concerned with the classification of dangerous substances and the safe containment of these substances in hazardous goods containers and packaging.
You work closely with chemical safety experts and participate in international committees. What is special about lithium batteries?
At the moment a number of issues are being dealt with concerning the transport of defective lithium-ion batteries, accentuated by the energy transition and developing electromobility. This topic keeps us busy in the Chemical Safety Engineering and Containment Systems for Dangerous Goods departments because BAM is responsible for the specifications for the transport of batteries in Germany. There is also an initiative at the UN just to re-classify lithium batteries worldwide – with respect to their danger – and BAM is involved in this UN working group.
It must also be borne in mind that the rapid development of new energy storage systems means that regulations cannot be developed as quickly as we would need them. The regulations very often say "as specified by the competent authority". We have to produce certain specifications for Germany which we then transfer to international committees.
Manufacturers and transporters of containment systems for dangerous goods know BAM well because BAM is the national approval authority.
Yes, BAM is responsible for approving containment systems for dangerous goods. But we also have other tasks, e.g. design tests of transport containers for radioactive substances. We check whether the containers are airtight and that no radioactivity can escape to the outside. BAM is also responsible for the assessment of quality management systems for the production and operation of packaging, i.e. of containers and packages.
More than 300 million tonnes of hazardous goods are transported annually on Germany's roads, railways and waterways including chemicals and petrochemicals. Some of them are explosive or flammable, toxic, corrosive, radioactive and other dangerous substances and objects. Dr. Goedecke, how safe are these dangerous goods transports?
The transport of these dangerous goods is safe both in Germany and in Europe. We are talking about transport safety of dangerous goods. There are also goods such as radioactive materials that need to be packaged in an accident-proof manner. Of course, there are very different safety requirements: hazardous goods class 7 applies to radioactive substances. Other requirements apply to gases and similar substances, both for tanks and packaging. Obviously, there is no such thing as absolute safety.
Dangerous goods are often transported across several national borders. Different countries, but international safety regulations ...
Internationalisation is necessary because otherwise transportation between countries cannot take place at all. If something is sent to the US or Asia, various modes of transport have to be used. They start with the lorry and then may transfer to a train or a ship. This is always associated with different areas of law. If they were not harmonised, they would have to apply for different permits in different countries. This is no longer necessary thanks to the internationalisation of regulations. In maritime transport we have for example the International Maritime Dangerous Goods Code (IMDG), an international code of regulations that is globally valid.
A glimpse into the glass sphere: new materials, resource-saving production processes, new energy storage, circular economy. Will less dangerous goods be transported in the future than now?
I do not think so. The amount of dangerous goods transported has remained fairly stable over the years and new categories have always been added. Thus, in addition to lithium batteries, hydrogen or gases will increasingly be used in the future. BAM observes and accompanies these developments and adapts to them. We have built a new test bench for fire tests on lithium batteries which is equipped with gas sensors and can detect pollutants very accurately. Such data will help to better evaluate accidents and ensure safety during transport.