Learning from one another
Nsesheye Susan Msinjili is a civil engineer and has been working in the division Technology of Construction Materials since 2010. She grew up in Tanzania, studied and worked there - and just happened to make her way to Berlin. As an East African and an organisational talent, she is a perfect candidate for BAM's German-African cooperation.
Mrs Msinjili, what brought you to Germany and BAM?
It was a coincidence, to be honest. I did my bachelor's degree in civil engineering in Dar es Salaam and then worked in a small consulting firm. With luck, I came across on Xing that BAM was searching for a coordinator for an EU project, SPIN, which dealt with enhancing innovative and sustainable building materials for use in Africa. I wasn't planning on going to Europe at the time, but the job profile suited me very well. BAM was looking for a civil engineer with experience in Africa as well as the do's and don'ts of the African construction industry. Although I had not heard of BAM yet, I was of course very pleased that the application was successful.
The SPIN project was completed in 2013. What did you do after that?
Initially, through a scholarship, I obtained my master's degree in Edinburgh parallel to the SPIN project. Then, in collaboration with the Volkswagen Foundation, the KEYS - Knowledge Exchange for Young Scientists – project was created. We organised Summer Schools for master's students, doctoral candidates and postdocs in Tanzania, Ghana and South Africa, because young scientists in Africa often do not have the opportunity to travel to conferences or workshops and meet with fellow scientists. Therefore, the idea was to provide such a platform in Africa and we succeeded in doing so: every symposium was attended by 18 young scientists from different countries in Africa and four from Germany. There was also participation from eight international experts.
But KEYS was not the only project, was it?
Parallel to KEYS, I started a DFG project in which we investigated the potential of rice husks and rice husk ash as a material for so-called "low-cost housing" in Africa. The exciting thing about the project was that we valorised agricultural by-products into the production of sustainable building materials in Africa.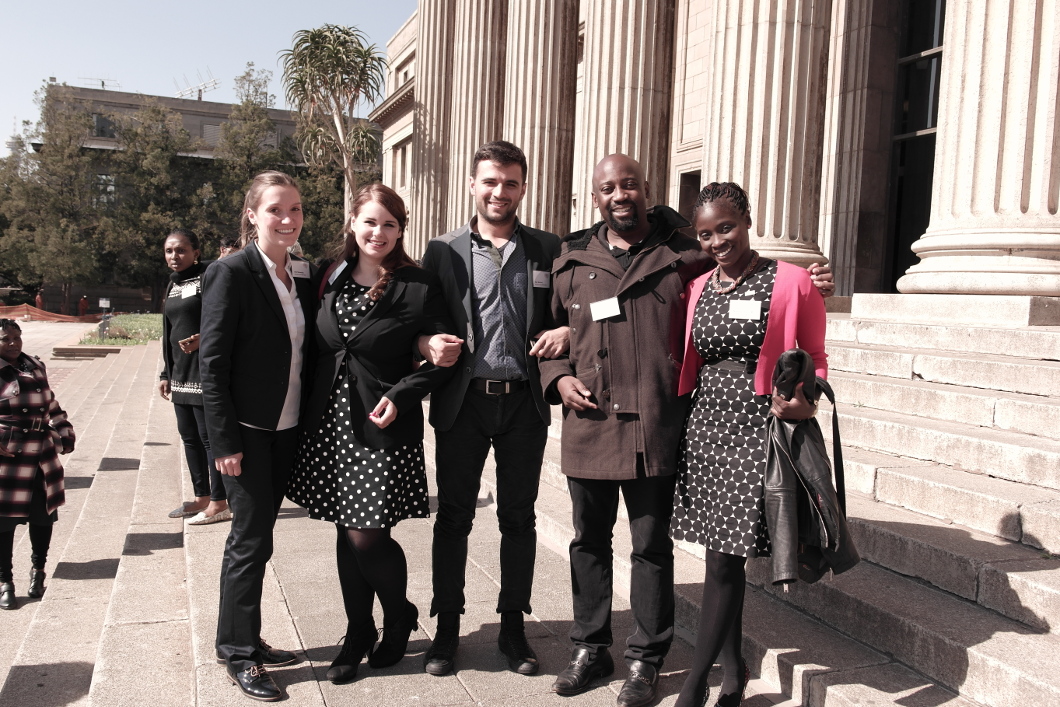 What was beneficial for Africa with projects like SPIN or KEYS?
A lot! Let's take the first workshop of the KEYS project, which took place in Tanzania: at the end of that, a PhD student and an international expert developed a cooperation project for developing new building materials for Uganda. Or the second meeting in Ghana, where a German company recruited participants for the purpose of initiating a new office in Ghana. That is precisely the goal of KEYS: to offer new opportunities, capacity building and enhance cooperation in Africa. It is not ideal for young talented scientists to leave the continent.
What qualifications did you bring to international projects?
It was especially important that I had experience in project management and was also able to lead large teams. For example, through my work as a civil engineer in Tanzania, I had experience in dealing with project developers, architects and other engineers. In Tanzania, as the lead structural engineer in a team, I was in charge of projects having more than 30 workers.
And how crucial was it for working with African project partners as someone who comes from Africa yourself?
Most of the partners were from Africa, so it was perhaps an advantage to have an African project coordinator. But most important were the experiences of how building materials for Africa can be enhanced. When comparing Germany and Africa, both the construction process and sustainable building materials used are rather different.
What cultural differences did you notice when you came to Germany in 2010?
As far as work is concerned, there is one big difference, even though it may be a cliché: the people here are very efficient and I find that really positive. Although my department is very large, we are familiar with one another - and everyone is interested in each other's work. Hence, it is inevitable to do a good job. And in everyday life, on the street, on the bus or shopping, the thing I noticed the most was that people rarely talk to each other - the contrary in Tanzania, where strangers interact regardless. But overall, cultural differences are secondary.
In the meantime, Germany has clearly become my second home - with the funny effect that my parents in Tanzania also keep their fingers crossed for the German team at international football tournaments.
What further steps are you planning in your profession?
My current goal is to complete my PhD here; I'm putting all my time into that. In my PhD thesis I deal with the use of clay minerals as building materials and work together with project partners from Germany. I receive a lot of support from my colleague Dr.-Ing Gregor Gluth, who is also the contact person for the project. After that, I would love to continue working at BAM and create another international project, preferably focusing on Tanzania, to further develop scientific research in innovative building materials. There is still a lot of potential in this field in Africa.
Can you also imagine yourself working in Tanzania again in the future?
Absolutely! After having learnt a lot here, it is really important for me to return to Tanzania to promote innovative scientific research in the country.