Catcher of the ion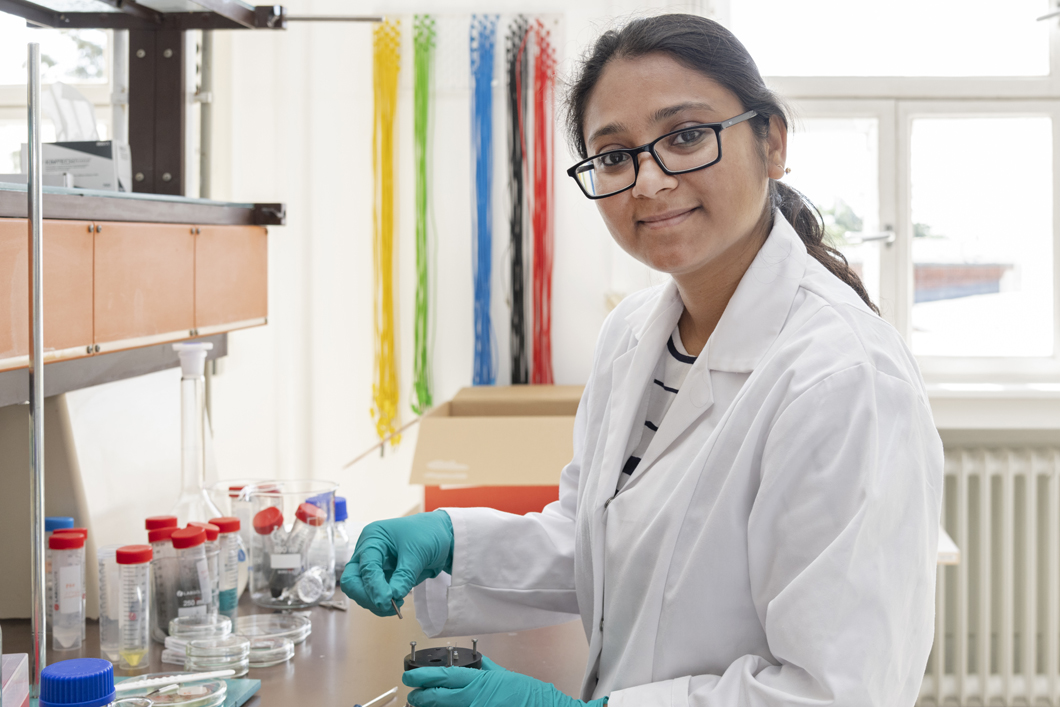 Dr. Chayanika Das was born in India and studied chemistry in Kolkata, Varanasi und Pune. In 2018 she successfully applied for a one-year Adolf-Martens-fellowship at the BAM. Since then she is doing research on corrosion. Recently she was rewarded the prestigious Research Fellowship of the Alexander-von-Humboldt-Foundation.
Congratulations, Ms. Das! With what project did you apply for the Humboldt-fellowship?
I am researching on the corrosion of lightweight materials such as aluminum and magnesium alloys used in the automobile and aerospace industry. During corrosion these metallic surfaces release ions, they 'escape', so to say. Therefore, we have to protect the surfaces with coatings. Normally, inorganic coatings are used for this purpose, but during their fabrication toxic substances come into play. In my project I proposed an organic coating which captures the released metal ions and converts them to a protective layer. I am also planning to disperse nanofillers in the coating, for example graphene, an impermeable nanomaterial. Graphene nanosheets in the coating shall hinder the diffusion of corrosive media to the metal surface.
The Humboldt Foundation explicitly supports "personalities, but not projects". How did you convince the jury?
Maybe my interdisciplinary profile convinced them – during my educational journey I had the chance to learn many methods and to apply them on different scientific questions. In India I had the chance, to study and do research at renowned institutes. The fact, that I had joined the BAM as Adolf-Martens-fellow one year before and had already the chance to carry my work forward and give it a new direction was surely helpful, too. And finally, BAM and Özlem Özcan, my host here, also supported me in writing the proposal. That helped a lot. I am really thankful for that.
How did you become interested in chemistry?
In school I had two excellent chemistry teachers, they motivated me to study the subject. And my older sister is a chemist too. She groomed me in a way.
Why did you choose the field of corrosion?
During my PhD I worked on energy storage and afterwards on catalysis. Then I felt, I should widen my knowledge. I thought, corrosion might be a new field, in which I can learn more and utilize and broaden my skills. Moreover, corrosion is a research area relevant to many industrial and environmental problems.
Why did you decide to leave India and go to Germany?
For my PhD I did research at the National Chemical Laboratory in Pune. There the infrastructure is equivalent to that in Germany, I would say. But the work-life-balance is much different: In India we used to stay in the lab for almost the whole day, with only short breaks in between, working also regularly on weekends. In Germany it's different, you have a much healthier work-life balance. This is, what I heard from people who already lived here. This, in my view, is very important it also keeps you motivated and interested in your work. Moreover, adapting to new teams is very important in science. So I thought, it might be a good option to go to Germany. That's why I applied for a Adolf-Martens-fellowship at the BAM in spring 2018.
What was you first impression?
The day I joined the BAM, everything was ready for me, my desk, my laptop, whole IT access, everything I needed in the lab. The next day I could start working. That never happened to me in India. That was brilliant, I was very surprised. I felt welcomed. And the infrastructure here is very good, too. You have access to all instruments you need for your research. The research infrastructure at BAM and the collaboration between the departments is also very good. And, we have a very supportive team.
Any further plans?
I don't know, what comes after my fellowship. But I will definitely try to stay here. I am also learning German.