Trust in Future Technologies
Start
04/03/2021 03:30 PM
Location
Webex online


see link below
Organized by
Bundesanstalt für Materialforschung und -prüfung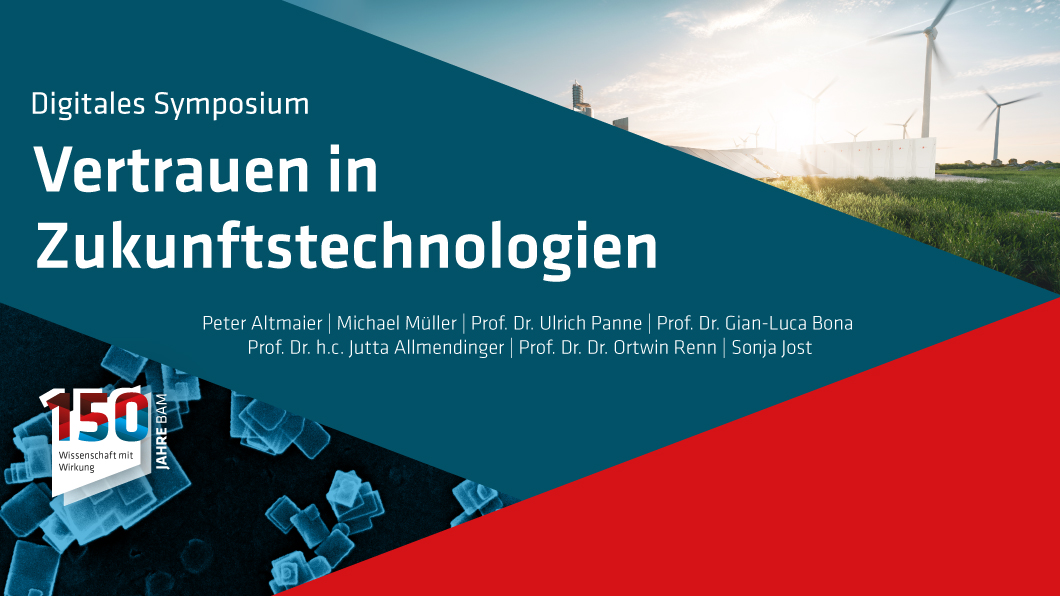 In 2021, BAM is celebrating its 150th anniversary. Since 1871, BAM has been ensuring safety in technology and chemistry. To mark this occasion, we will hold several online events throughout the year. We are kicking off our anniversary with a digital symposium on future technologies. The symposium will be held in German.
Digital symposium
'Trust in Future Technologies'
How can future technologies help solve grand challenges, such as climate change, while preserving our prosperity? How do we ensure the safety of new materials, products and processes? How can science create trust in its results in a post-truth age? And how can start-ups establish themselves in structurally conservative industries?
These are the topics of the digital symposium "Trust in Future Technologies", with which BAM will celebrate its 150th anniversary on March 4, 2021.
Programme
Remarks from
Peter Altmaier, Federal Minister for Economic Affairs and Energy
Michael Müller, Mayor of Berlin
Speakers
Ulrich Panne, BAM President
Gian-Luca Bona, Director of the Swiss Federal Laboratories for Materials Science and Technology EMPA
Jutta Allmendinger, President of the Science Center Berlin (Wissenschaftszentrum)
Ortwin Renn, Scientific Director of the Institute for Advanced Sustainability Studies in Potsdam
Sonja Jost, Managing Director of DexLeChem GmbH
Programme and registration
The complete programme and the weblink for registration are available here (in German).
Further Information